This fantastic Greek Grilled Chicken with Cucumber Sauce and Orzo Salad dinner is easy to make, very delicious, healthy, and very satisfying. The Cucumber Sauce, also know as Greek Tzatzki, is outstanding and easy to make. I know your family and friends will go wild over this dish. There is no mystery to Greek cooking – just wonderful flavor. Give it a try.
This Greek Chicken with Cucumber Sauce and Orzo Salad recipes and photos were shared with me by Karen Calanchini, Food Stylist and Photographer, of Redding, CA.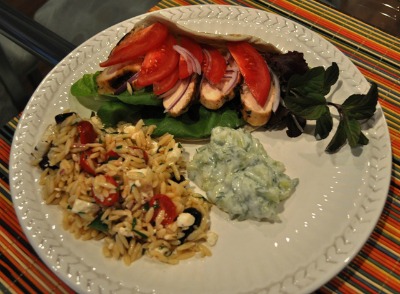 Greek Grilled Chicken with Cucumber Sauce and Orzo Salad Recipe:
Greek Chicken With Cucumber Sauce And Orzo Salad Recipe
Ingredients:
2 boneless skinless chicken breasts
1/8 cup olive oil
1/4 cup dry white wine (I use dry Vermouth)
1/8 cup freshly-squeezed lemon juice
Coarse salt or sea salt
Freshly-ground black pepper to taste
1/2 teaspoon dried oregano leaves
1/2 tablespoon dried mint leaves
1 cloves garlic, diced
2 pita rounds or thick flour tortilla shells*
Cucumber Sauce (see recipe below)
Greek Orzo Salad (see recipe below)
Greek Dressing (see recipe below)
Garnishes:
Sliced tomatoes
Thinly sliced red onion
Butter lettuce leaves
* Use homemade or the types sold at Trader Joe's or well-stocked grocery stores.
Instructions:
Prepare Cucumber Sauce and refrigerate. Prepare Greek Orzo Salad.
In a resealable plastic bag, marinade chicken breast, in the refrigerator, in olive oil, white wine, lemon juice, salt, pepper, oregano, mint, and garlic. Marinade approximately 6 hours or overnight.
When ready to cook, remove chicken from marinade; discard marinade.
Preheat barbecue grill. Grill chicken breasts approximately 5 minutes per side or until a meat thermometer registers an internal temperature of 165 degrees F. (juices will run clear when cut with the tip of a knife). Remove from grill, transfer chicken to a dish, and cover with aluminum foil for approximately 10 minutes. After 10 minutes, cut the chicken breasts into serving-size pieces.
While the chicken is cooking, either heat a non-stick pan, brushed with olive oil, and quickly heat pita rounds on each side until just warmed or heat on the grill along with chicken. Make sure the pita round are still pliable and not hard.
Transfer each pita round to a serving plate, top with small butter lettuce leaves, chicken, red onion, and put cucumber sauce on top.
Serve with Cucumber Sauce and Greek Orzo Salad on the side.
2 servings.
Cucumber Sauce:
1 clove garlic, diced or minced
1/2 teaspoon coarse salt
Freshly-ground black pepper to taste
1/4 cup plain Greek yogurt
1/8 cup non-fat sour cream
1/2 tablespoon freshly-squeezed lemon juice
1/2 teaspoon rice vinegar
1/2 to 1 tablespoon chopped fresh dill
1/4 teaspoon Greek seasoning
1/2 of a English cucumber, seeded and shredded English cucumber
In a bowl, combine garlic, salt, pepper, yogurt, sour cream, lemon juice, rice vinegar, dill, and Greek seasoning. Adjust seasonings to your taste.
Add the shredded cucumber to the prepared sauce; cover and put into refrigerator for several hours or overnight.


Greek Orzo Salad:
2/3 cup uncooked Greek Orzo pasta
Chicken broth or stock
2 tablespoons diced red onion
1 teaspoon dried Greek Oregano
2 tablespoons pitted and sliced Kalamata olives
1/2 cup grape tomatoes, cut in half
2 to 3 tablespoons feta cheese
1 1/2 tablespoon chopped fresh parsley
Greek Dressing (see recipe below)
Cook the Greek Orzo in chicken broth according to directions on package. Drain and let cool.
Once cool, gently stir in the onion, oregano, olive, tomatoes, feta cheese, and parsley; set aside.
Prepare Greek Dressing. Add to orzo salad mixture, tossing gently, but well. Cover and refrigerate.
Serve at room temperature.
Greek Dressing:
2 tablespoons extra-virgin olive oil
1/2 tablespoon champagne vinegar
1/2 lemon, juiced
In a small bowl, combine olive oil, champagne vinegar, and fresh lemon, juice; whisk until combined.
https://whatscookingamerica.net/KarenCalanchini/GreekChicken.htm
Comments and Reviews