Leftover Turkey Pot Pie Cups are a great way to enjoy your holiday turkey dinner anytime.
Chances are you still have some leftovers from your holiday meal stashed away in the refrigerator. These Leftover Turkey Pot Pies Cups are easy to make, freeze well, and heat up in a microwave for a quick visit back to a really good meal! A tasty way to use up the remaining turkey, potatoes, stuffing, gravy and cranberries. Have some store bought pie crust on hand and you are all set.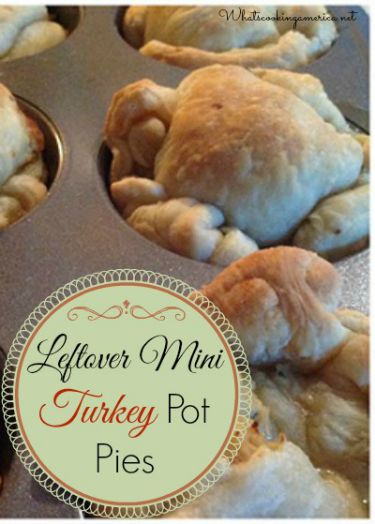 More great Poultry Recipes and learn how to Brine Poultry for a moister and tastier dish.
Leftover Turkey Dinner Cups Recipe:
Keyword:
Leftover Turkey Dinner Cups Recipe
Servings
:
6
to 8 servings
Ingredients
Cooked leftovers from your holiday meal: 

Turkey

(white and/or dark meat), cut into 1-inch cubes

Stuffing

or dressing

Turkey gravy

Cranberry sauce

Pie Crust

(either homemade or store bought)
Instructions
Preheat oven to 375 degrees F.

Select a large-size muffin pan, popover pan, or 6 to 8 baking cups (such as used for custards). Spray containers with a non-stick cooking spray.

Prepare Pie Crust.  Divided the pie crust dough into 6 to 8 balls (depending on your pan sizes).  On a floured board, roll each dough ball out to a 1/8-inch thickness and two times larger than your baking containers.  Line the prepared containers with the rolled out pie dough, leaving excess dough to wrap over the top when the cups are filled.

Fill each dough-lined container with some turkey, dressing/stuffing, sweet potatoes, mashed potatoes, turkey gravy, and finally cranberry sauce. Adjust the portion sizes to the size of your containers. Bring the remaining dough up over the top of your ingredients, crimping together is necessary.

Bake approximately 15 to 20 minutes or until the internal temperature registers approximately 175 degrees F. on your cooking thermometer and the crust is golden brown.

Remove from oven and, using a spatula, quickly lift each serving onto individual serving plates. Serve hot or warm.

The Turkey Dinner Cups may be frozen and heated before serving in a 400 degrees F. oven for about 5 minutes.

I get many readers asking what cooking/meat thermometer that I prefer and use in my cooking and baking. I, personally, use the Thermapen Thermometer. Originally designed for professional use, the Super-Fast Thermapen Thermometer is used by chefs all over the world.  I only endorse a few products, on my web site, that I like and use regularly.
You can learn more or buy yours at: Super-Fast Thermapen Thermometer.
Sponsored Content
Comments and Reviews