These fresh green beans and baby leeks are easy and quick to put together once everything is ready to go, and the ingredients blend so beautifully together.  The tiny red cherry tomatoes add a pop of color as a garnish and are optional.
This delicious Asian Green Beans with Leeks recipe, comments, and photos were shared with me by Karen Calanchini, Food Stylist and Photographer, of Redding, CA.
More wonderful Bean Recipes, and learn about Green Bean Hints, Tips, and Information.
Asian Green Beans with Leeks Recipe:
Asian Green Beans with Leeks Recipe
Ingredients: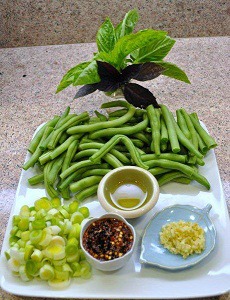 1 pound green beans, ends trimmed and cut in half
2 tablespoons low-sodium soy sauce
2 teaspoons grated fresh ginger*
1 tablespoon seasoned rice vinegar
1 teaspoon granulated sugar
Red pepper flakes to taste
2 tablespoons extra-virgin olive oil (use peanut oil if you prefer)
3 to 4 baby leeks, trimmed, washed and sliced
2 large garlic cloves, minced
Several leaves of sweet basil, chiffonade cut
Small red cherry tomatoes (optional)
* I used a small hand-held grater with a handle to grate my fresh ginger. It has very small holes, and the ginger is finely grated.
Instructions:
In a small bowl, mix together the soy sauce, ginger, rice vinegar, sugar, and red pepper flakes; set aside
Heat olive oil in a large saute pan over medium-high heat. Saute prepared green beans until crisp-tender, approximately 5 minutes. Add prepared leeks and cook until softened and beans are tender, about 4 minutes.
Move vegetables away from center of pan to form a well, pour in the soy sauce mixture, and cook approximately 2 minutes until fragrant.
Toss the sauce and vegetables with tongs and mix well. Turn off the heat and sprinkle on the basil and small red cherry tomatoes, if using.
Serve immediately.
https://whatscookingamerica.net/KarenCalanchini/GreenBeans-Asian.htm
Comments and Reviews