This Jambalaya with Roasted Lemon is a fun recipe to make, easy, and worthy of guests.  Prepare and assemble all the ingredients ahead of time and the rest is quick.  The best part is that you only use one pot.
This delicious Shrimp Jambalaya recipe, comments, and photos were shared with me by Karen Calanchini, Food Stylist and Photographer, of Redding, CA.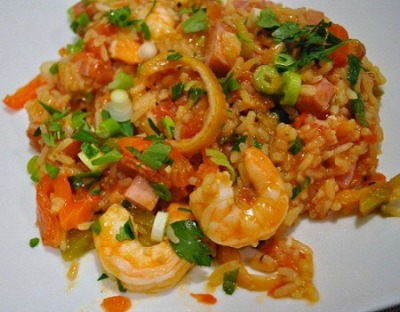 Jambalaya with Roasted Lemon Recipe
Ingredients:
2 tablespoons good-quality olive oil
5 cloves garlic, minced
3/4 cup chopped onion
2 stalks celery, strings removed. Use some of the celery leaves too
1 large green, red or yellow (or a color combination of your choice) bell pepper, cut into bite size strips
1 green or red Jalape chile pepper, seeds removed, diced
2 teaspoons fresh thyme leaves (or 1 teaspoon dried thyme)
2 bay leaves
Red pepper flakes, to taste
1 (16-ounce) can of diced tomatoes in juice
1 cup white wine or dry Vermouth*
1/8 teaspoon Tabasco Sauce
1 cup long grain white rice
1/2 to 3/4 cup Black Forest Ham, cut into bite-size chunks
2 1/2 to 3 ounce link of Spanish Chorizo, cut into slices
1 pound medium-size raw peeled and deveined shrimp
Slices of roasted lemon to taste (see recipe below)
Fresh squeezed lemon juice and zest from one lemon
Coarse sea salt to taste
Freshly-ground black pepper, to taste
3 green onions for garnish
Fresh Parsley leaves, rough chopped for garnish
* A good chicken stock may be substituted if you prefer. Learn how easy it is to make your own homemade Chicken Stock - Basic Chicken Stock.
Instructions:
In a large round pan such as Le Creuset, Cast-Iron Dutch Oven or a paella pan, heat olive oil over medium heat. Saute the garlic, onion, celery, bell peppers, and chile peppers until softened, approximately 3 minutes.
Stir in thyme, bay leaves, red pepper flakes, tomatoes, wine, Tabasco Sauce, ham, chorizo, and roasted lemon slices. Bring just to a boil, add rice and cover with lid; cook approximately 30 minutes or until the rice has absorbed almost all of the liquid and is cooked through.
Gently stir in the raw shrimp, cover, and cook approximately 5 minutes or until the rice is tender and the shrimp have turned pick. Remove from heat.
Add lemon juice and lemon zest; toss with a fork to fluff rice. Season to taste with salt and pepper.
Garnish with green onion and parsley. Serve with a white wine and some crusty sourdough.

Roasted Lemon Recipe:
Medium-size lemons (as many lemons as you desire)
Extra-virgin olive oil

Preheat oven to 375 degrees F. Spray a heavy pan with olive oil.
Scrub lemons with a vegetable brush under warm water; rinse well and dry with a clean cloth.
Thinly slice the lemons and remove seeds.
Place the sliced lemons into prepared pan in a single layer.
Roast lemon slices for about 25 to 30 minutes or until they turn gold brown on the edges and on the bottom side, turn and roast for a few more minutes. Watch closely at this point and remove lemons when they have begun to caramelize. As the lemons start to cook they release all the juices, that cooks away as the lemons brown and caramelize.
https://whatscookingamerica.net/KarenCalanchini/Jambalaya-RoastedLemon.htm
Comments and Reviews