This Apple Cake with Lemon Sauce was one of my first-ever creations, made one day when I was about 14 years old.  I wanted to bake an apple cake but I really wanted something different and yet still delicious.  I recall taking about three different recipes, adding my own twist and coming up with this satisfying dessert.  Twenty-five years later,  I still think it's a wonderful dessert for everyday.
This wonderful Apple Cake with Lemon Sauce recipe, comments, and photo was shared with me by Cynthia Katz, food columnist and cooking instructor, of Saskatchewan, Canada.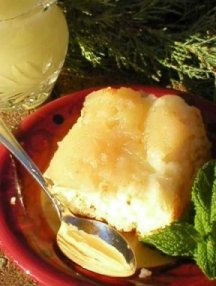 Check here for Basic Rules For Baking or here for Secrets Of A Successful Cake.  Also check out more Cake Recipes.
Apple Cake with Lemon Sauce Recipe:
Keyword:
Apple Cake with Lemon Sauce Recipe
Ingredients
Apple Cake:
4

medium

apples,

peeled, cored and sliced

1

tablespoon

lemon juice,

fresh-squeezed

1 1/4

cups granulate

sugar,

divided

1/4

cup

water

1 1/3

cups all-purpose

flour

3

teaspoons

baking powder

1/2

teaspoon

salt

1/4

cup

butter

or vegetable shortening

1

egg

3/4

cup

milk
Lemon Sauce:
1/2

cup granulated

sugar

1

tablespoon

cornstarch

1/4

cup

cold water

1/2

cup

boiling water

1

tablespoon

butter

1/2

teaspoon

lemon extract

2

tablespoons

lemon juice,

fresh-squeezed
Instructions
Apple Cake with Lemon Sauce Instructions:
Preheat oven to 350 degrees F. Butter an 8-inch square cake pan.

Add sliced apples to prepared cake pan. In a small bowl, combine lemon juice, 1/2 cup sugar, and water; pour over apples and mix thoroughly. Let stand while preparing batter for cake.

In a large bowl, combine flour, remaining 3/4 cup sugar, baking powder, and salt; cut in butter or vegetable shortening with a pastry blender until shortening is the size of very small peas. Make a hollow in the center of the flour mixture, and add egg and milk; mix until just combined (batter should have small lumps in it).

Pour batter over apple mixture and bake approximately 45 minutes or until a toothpick inserted near the center comes out clean.

Prepare Lemon Sauce. Serve with Lemon Sauce spooned over warm cake.
Lemon Sauce Instructions:
In a small saucepan, mix sugar and cornstarch thoroughly.  Stir in cold water until cornstarch is dissolved.  Add boiling water and cook over medium heat, stirring constantly until thickened and clear in color.

Remove from heat and stir in butter, lemon extract, and lemon juice; set aside until ready to serve.
Comments and Reviews