This Naan Bread with Tomato Raisin Fusion Salsa Recipe makes an easy to make healthy and quick snack, or even a meal.  This would even be great as an appetizer, as the flavors are very bright and complex.  This is similar to a Tomato Bruschetta.  You will love the Tomato Raisin Fusion Salsa Recipe.
Naan, a word that just means bread in its original Persian, is a flat bread native to west, central, and southern Asia.  Also known nan or khamiri bread.  It is a leavened, oven-baked flat bread.  Naan traditionally is plain flat bread made using bread flour.  There are many, many variations of naan bread depending on what ingredients are typically available in the different regions.
This recipe, comments, and photos were shared with by Karen Calanchini, Food Stylist and Photographer, of Redding, CA.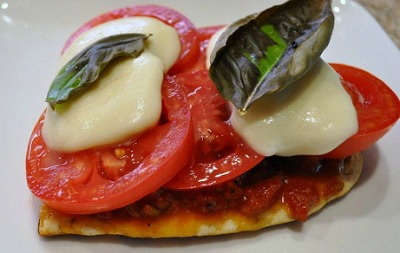 Naan Bread with Tomato Raisin Fusion Salsa Recipe:
Naan Bread with Tomato Raisin Fusion Salsa Recipe
Ingredients:
Tomato Raisin Fusion Salsa
1 Indian Naan Flat Bread*
1 medium-size tomato, sliced
Coarse salt or sea salt (a few grains over the tomato slices)
Fresh Mozzarella Cheese, sliced
Fresh basil leaves
* Naan bread is leavened Indian flatbread. You can purchase this bread at specialty stores and well-stocked grocery stores.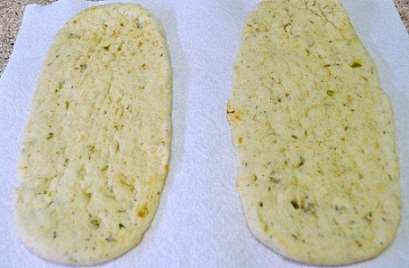 Instructions:
Prepare Tomato Raisin Fusion Salsa in advance (see link above); store in refrigerator.
Place one Naan bread on a dry pan over medium heat. Brown one side of the bread and then flip over. Reduce heat to low. Cover the browned side of the bread with some prepared Tomato Raisin Fusion Salsa, sliced tomatoes, mozzarella cheese slices, and fresh basil leaves.
Place a lid on top of the pan and let the cheese melt. Remove from heat and place on a cutting board. Cut in half and serve immediately with a simple green salad or fresh fruits of your choice.
Makes 2 servings.


https://whatscookingamerica.net/KarenCalanchini/NaanBreadSalsa.htm
Comments and Reviews