Steak Lovers' Delight
New York Steak with Tarragon Mushrooms recipe is a real treat for steak lovers!  In other words, this delightful steak is good anytime you want a delicious  and special meal.  It doesn't get any better!
The steaks are marinated overnight in a wonderful savory tarragon sauce.  The marinade is cooked into a glaze that is poured over the steaks that have been grilled to perfection.  Steaks, when ready to serve, are then topped with the delicious sauteed tarragon mushrooms.  This is a great meal to throw on the grill for a summer evening, a Father's Day meal, or Valentine's Day dinner.
This delicious New York Steak with Tarragon Mushrooms recipe, comment, and photos were shared with my by Karen Calanchini, Food Stylist and Photographer, of Redding, CA.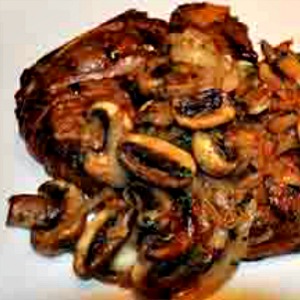 New York Steak with Tarragon Mushrooms Recipe:
New York Steak with Tarragon Mushrooms Recipe
Ingredients:
1/3 cup vegetable or olive oil
1/4 cup low-sodium soy sauce
1 tablespoons Worcestershire sauce
1 tablespoon Grey Poupon mustard
Coarse salt or sea salt to taste
Freshly-ground black pepper to taste
1/4 cup good-quality red wine vinegar
3 to 4 cloves garlic, minced
3 tablespoons freshly-squeezed lemon juice
2 bone-in New York Steaks*
Sauteed Mushrooms and Onions (see recipe below)
* Check out Types of Steaks and Cooking Techniques for the Perfect Steak.
Instructions:
Prepare Marinade: In a bowl, whisk together the oil, soy sauce, Worcestershire sauce, mustard, salt, pepper, wine vinegar, garlic, and lemon juice.
In a single layer, place the steaks in a glass container and pour the prepared marinade over the top. Cover and place in the refrigerator at least 8 hours or overnight, turning several times.
When you are ready to grill, preheat barbecue grill. Place steaks onto hot grill. Cover barbecue with lid, open any vents, and sear for approximately 3 to 4 minutes per side or until done to your preference using a meat thermometer (see below):
Rare - 120 degrees F
Medium Rare - 125 degrees F
Medium - 130 degrees F
While the steaks are cooking, in a saucepan over medium heat, heat the remaining marinade and let simmer for approximately 15 minutes. Remove from heat and serve with the steaks.
When the steaks are done to your liking, remove from the grill, and let sit 15 minutes before serving (meat temperature will rise 5 to 10 degrees after it is removed from the oven). Place on a platter or individual dinner plates and serve with the Sauteed Mushrooms and heated marinade.
Makes 2 servings.
Sauteed Mushrooms and Onions with Fresh Tarragon
1/2 pound medium-sized white button mushrooms, cleaned and dried on paper towels
1 large yellow onion, cut in half and sliced
3 tablespoons butter
1/2 tablespoon olive oil
Salt and pepper to taste
2 tablespoons fresh tarragon, stripped from stem and chopped or 1 teaspoon dried tarragon
In a large non-stick frying pan over medium-low heat, add the sliced onions, salt, and pepper; cook slowly until the onions are soft and just starting to turn golden.
Add mushrooms and saute until they are cooked to your liking. Add tarragon and simmer a few more minutes.
Serve with your steaks.
https://whatscookingamerica.net/KarenCalanchini/NewYorkSteak.htm
Comments and Reviews