This outstanding Orca Beans and Yellow Rice Soup has an interesting complexity of flavors.  I love the Caribbean flavors of this soup.  Karen likes to serve this soup with her Prosciutto de Parma Quesadillas and a bottle of Tabasco Sauce on the side.
This delicious Orca Bean Soup recipe, comments, and photo were shared with my by Karen Calanchini, Food Stylist and Photographer, of Redding, CA.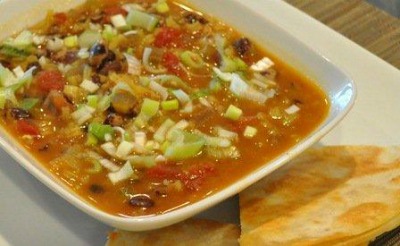 Orca Beans and Yellow Rice Soup Recipe:
Orca Bean and Yellow Rice Soup Recipe
Ingredients:
1 pound dried Orca beans*
2 tablespoons olive oil
4 to 6 cloves garlic, minced
1 large onion, peeled and chopped
2 ribs celery, diced
2 1/2 quarts (10 cups) chicken stock or broth**
4 cups (32 ounces) canned crushed tomatoes
2 teaspoons ground coriander
1 cup dry sherry
Yellow Rice (see recipe below)
1/4 cup fresh cilantro leaves
Coarse salt and freshly-ground black pepper to taste
1 jalapeno chile pepper, seeded and minced
Zest of 1 lime
2 tablespoons freshly-squeezed lime juice
Cooked Yellow Rice (see recipe below)
1 bunch chopped scallions (green onions), for garnish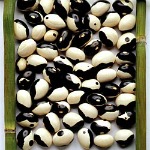 * Orca Beans - Also known as calypso beans and yin yang beans that are a heirloom variety from Mexico. When dried, these beans are a beautiful black and white. If you can not find these beans, substitute cannellini beans, black beans, Anasazi beans or Black Valentine beans. Canned black beans will do in a pinch, but will not give the same results.
** Learn how easy it is to make your own homemade Chicken Stock - Basic Chicken Stock.
Instructions:
Placed the Orca beans in a deep bowl and cover with fresh cold water by 2 inches. Place in the refrigerator and let soak overnight. Drain and rinse well before using.
In a large soup pot over medium-high heat, add the olive oil, garlic, onion, and celery; saute, stirring frequently, for 10 minutes.
Add the drained beans, chicken stock/broth, tomatoes, coriander, and sherry. Bring just to a boil; reduce heat to medium and simmer approximately 1 1/4 to 2 hours or until the beans are tender. Also read Basic Bean Recipe for Cooking Beans to help you cook your dried beans.
While the soup is cooking, prepare the Yellow Rice.
When ready to serve, add the cilantro and season with salt and pepper to taste. Add the jalapeno chile pepper, lime zest, lime juice, and cooked Yellow Rice.
Makes 10 to 12 servings.
Yellow Rice Recipe:
2 tablespoons olive oil
1/2 cup chopped onion
1 cup Jasmine rice*
2 cups chicken stock or broth
2 teaspoons coarse salt
Pinch of turmeric
* Jasmine rice, also know as Thai fragrant rice, is a long-grain Jasmine-scented rice with a nutty aroma. It is very popular in Asian cooking.

In a 3-quart saucepan over medium-high heat, heat the olive oil. Add the onions and saute for approximately 5 minutes or until a pale golden color. Add the Jasmine rice and continue to saute 3 minutes more.
Add chicken stock/broth, salt, and turmeric. Bring just to a boil; cover the pan and reduce heat to low. Let simmer for approximately 15 to 29 minutes or until all the water is absorbed and the rice is fluffy. Remove from heat and set aside.
https://whatscookingamerica.net/KarenCalanchini/OrcaBeanSoup.htm
Comments and Reviews