Karen serves this delicious Spicy Chile with Pepper with her Quesadillas with Cheese.  The combination of ground beef and ground bison make for an interesting and delicious spicy chile with peppers to serve your family and friends.
This delicious Spicy Chile with Peppers recipe, comments, and photo were shared with my by Karen Calanchini, Food Stylist and Photographer, of Redding, CA.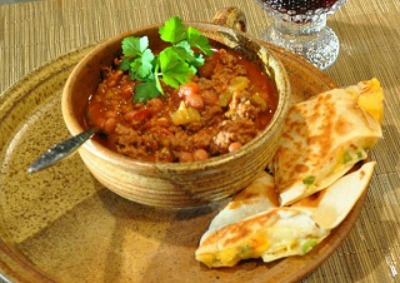 More great Chili Recipes and lots of Southwest-Style Recipes.
Spicy Chili with Peppers Recipe:
Spicy Chile with Peppers Recipe
Ingredients:
1 pound ground beef (hamburger)
1 pound ground bison
1/2 tablespoon olive oi
1 large onion, large chop
6 to 8 cloves garlic, minced
2 to 4 stalks celery, string removed and sliced
1/2 green bell pepper, large chop
1 green jalapeno chile pepper, minced
2 roasted and skinned Anaheim chile peppers, seeded and chopped
1 can fire-roasted diced tomatoes
1 can tomato sauce
2 cans red kidney beans, drained and rinsed*
1 tablespoon Chipotle Chili powder
1 tablespoon Grandma's Chili powder**
Salt and pepper to taste
* NOTE: This recipe can be made with 1 1/2 cups dried Poquito or dried kidney beans cooked until almost done. Then add to the chili with a little of the cooking liquid. Poquitos beans are small, pinkish-brown beans indigenous to the Santa Ynez region or California.
** Substitute chili powder of your choice.
Instructions:
In a large soup pot of Dutch oven, brown together the ground beef and ground bison in the olive oil. Once browned, remove browned meat from the cooking pot and set aside.
In the same cooking pot, sautthe onion, garlic, celery, green bell pepper, and jalapeno chile pepper until almost soft.
Add the roasted Anaheim chile peppers, stirring to combine.
Return the browned meat (ground beef and ground bison) to the pot.
Add diced tomatoes, tomato sauce, kidney beans, Chipotle chili powder, and Grandma's chili powder. Simmer on very low for approximately 90 minutes, stirring and checking to make sure the chili does not dry out or stick to the bottom of the pan. Add a little water or beef broth, if needed. Taste and adjust seasonings to your liking. Add salt and pepper to taste.
Serves many.
https://whatscookingamerica.net/KarenCalanchini/SpicyChile.htm
Comments and Reviews