This is a delicious hearty salad recipe that gives your day-old rustic artisan bread a new purpose.  The harder breads stand up well in this dish.  Making this in summer when fresh tomatoes and herbs are in season brings out a burst of flavor that can be beat.  I love using colorful Heirloom tomatoes.  The secret to this dish is letting the tomato bread salad with herbs rest in it's juices for a few hours so the bread had a chance to absorb the juice.   The flavor is so intense and you can easily make a meal of this dish.
Tomato Bread Salad with Herbs recipe, comments, and photos were shared with my by Karen Calanchini, Food Stylist and Photographer, of Redding, CA.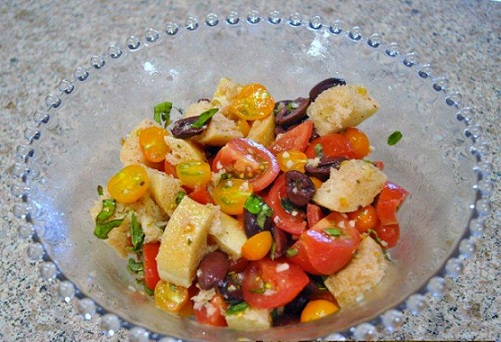 More wonderful Salads and Salad Dressing Recipes.
Tomato Bread Salad with Herbs Recipe:
Tomato Bread Salad with Herbs Recipe
Ingredients:
1/2 pound vine-ripened red tomatoes, cut into 3/4-inch wedges*
1/2 pound vine-ripened yellow tomatoes, cut into 3/4-inch wedges*
1/4 cup pitted Nicoise or Kalamata olives, cut in half
1/4 cup fresh basil leaves, wash well, spun dry, and chopped**
1 tablespoon fresh marjoram leaves, chopped
Coarse salt or sea salt and freshly-ground black pepper to taste
2 cups (3/4-inch cubes) good-quality Sourdough baguette (1 to 3 day-old bread)
Salad Dressing (see recipe below)
* I like to choose a mixture of tomatoes from the garden or Farmer's Market (red, yellow, purple, heirloom, etc.) for this salad. Yellow pear tomatoes are especially pretty mixed in. Please do not even attempt this salad with poor-quality tomatoes.
** Basil leaves can be layered on top of one another, rolled into a tight roll, and then sliced. This is called "chiffonade" the basil.
Instructions:
In a large bowl, combine the tomatoes, olives, basil leaves, and marjoram. NOTE: At this point, the salad may be refrigerated, covered, for several hours.
Remove from refrigerator an hour or so before serving and bring to room temperature.
When ready to serve, add the bread cubes, prepared Salad Dressing, salt, and pepper. Toss the ingredients gently to coat; let stand for at least a half-hour before serving.
https://whatscookingamerica.net/KarenCalanchini/TomatoBreadSalad.htm
Salad Dressing:
1 tablespoon red wine vinegar
1 to 2 garlic cloves, minced
1/2 cup extra-virgin olive oil
In a bowl whisk together wine vinegar, garlic, and olive oil until emulsified or well blended.
Source: This recipe has been slightly adapted from Epicurious.com.
Comments and Reviews