Begin Cooking with Mise En Place
A good cook surrounds herself with things she loves.  There is no surprise that cookbooks are on my nightstand and the TV seems to tune itself to cooking shows.
My husband is a good sport.  After all, he is recipient of my food endeavors and sometimes the willing cohort as well.  Early this year, we were following along as the contestants on the FoodNetwork's show "Worst Cooks in America" stumbled through their lessons.  Chef–Instructor Anne Burrell was teaching the students about Mise en place.
I was so excited to hear "Mise en place" because I had devoured the term in the wonderful film "Julie and Julia."  After all, someone, like me, who loves to organize and loves to cook is naturally going to love that term, which some describe as having everything in its place before you begin cooking.
While I have loved to cook forever, I had never heard that term until this year.  I guess I am behind the trend rather than in front of it.  Having never taken a French class, I decided to check out multiple French to English translation programs on the Internet.  Four of them told me that Mise en place means: set up; installation, position; or setting up.
There may not be a consensus among the programs as to the exact meaning but the concept of careful preparation before you cook remains an important one.  Although I did not know there was a term for it, I have always known finding all your ingredients insures that you have on hand what you need.  Preparing them before beginning the dish means you are ready to add each ingredient and will not be caught on a step unprepared.
Watch a cooking demonstration or a food TV show and you will see Mise en place in action.  Each ingredient is measured and waiting in its own little glass dish.  One memorable Mise en place mishap took place when Paula Deen tried to teach Oprah Winfrey how to cook.  Someone had seen to the Mise en place with each ingredient in it's own clear, tiny glass dish.  While the mixer was running, Deen preceded to toss in ingredients and with one, the tiny bowl went in as well.  With the mixer beating out a terrible racket, Deen, Winfrey, and front row guests were soon wearing gobs of batter.
At home, it is not necessary to use a ton of individual dishes – nor drop them into a running mixer.  What is important, is taking the steps to organize your ingredients.  Each dish you make will have a much higher chance of success if you learn Mise en place.
How to Have Mise En Place in Your Home Kitchen:
Begin with a clean area in which to prepare your dish.
Fill a sink with warm soapy water so that you are organized to clean as you cook instead of creating a big mess for the end.
Read through the entire recipe.
Preheat the oven or grill, if required.
Gather necessary pan and tools.
Grease or prepare any pans.
Lay out all of your ingredients.
Prepare your ingredients, such as chopping vegetables, before beginning to cook.



Mise en place ingredients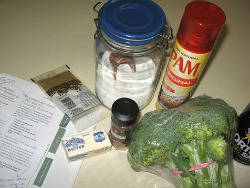 Laying out all of your ingredients, as I have done for this Cumin Roasted Broccoli, insures that you have everything at hand before beginning to cook.


Measured spices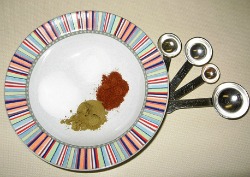 Measuring your ingredients, and placing them in small bowls helps you follow the recipe accurately and makes cooking smooth.
Measure each ingredient. You can certainly use individual bowls, like a chef does during a demonstration, or just use one bowl for each step of the recipe. You can place anything that goes into the dish, at that step, into one bowl. In this method, you would have a bowl for each step rather than one for each ingredients.

Time and temp label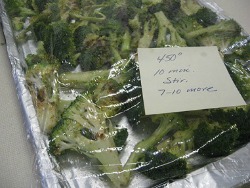 When preparing a dish ahead, note the cooking time and temperature on the dish. This is especially helpful when entertaining or preparing multiple dishes.
If preparing the dish in advance, take one final step. Add the cooking time and temperature to the prepared dish.
For more information, check out Linda Stradley's article:  What Is A Recipe – Mise en Place.
---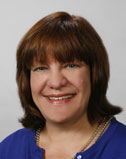 Author Lea Schneider, a columnist for What's Cooking America, is a freelance writer and organizational expert whose organizing ideas have been published in many magazines including Woman's Day, Better Homes and Gardens Kitchen and Bath Ideas, Family Circle, Parents Magazine, as well as numerous newspapers and websites.  She is a member of the Association of Food Journalists.
Getting organized is all about living simpler and making things easier.  The bonus is it often leads to saving money.  Lea Schneider's kitchen organizing columns tell you how to organize the many things that relate to kitchens, menus, meals, and special food events.
Check out all of Lea Schneider's helpful home and kitchen columns at Organizing Kitchens, Pantries, Menus and Meals.
Comments and Reviews