Salmon Rillettes, also know as Rillettes aux Duex Saumons, are a perfect make-ahead classic French dish to serve as an appetizer or a first course before dinner.  The combination of two different types of salmon are perfect in this dish.  The result is a lovely, buttery, smooth spread dotted with chunks of melt-in-your-mouth salmon.  A very elegant way to serve salmon to your guests.  One bite and everyone will be completely blown away by the taste!
These Salmon Rillettes can be made ahead of time of your event or party and refrigerated.  Make the rillettes up to 3 days ahead and store it in the refrigerator.  Serve at room temperature for maximum smoothness.  Makes an easy appetizer to serve your family and friends.  Everyone will want this recipe.
This outstanding French dinner menu using Salmon Rillettes was generously shared with my by Linda Sandberg of Newberg, OR.  Linda belongs to a Gourmet Dinner Group that delights in making wonderful foods that they share together.  Check out French Bistro Dining which includes this recipe.
Sources:  This recipe is by Thomas Keller and his cookbook, Bouchon.  Photos taken at the Bouchon Restaurant in Yountville, CA.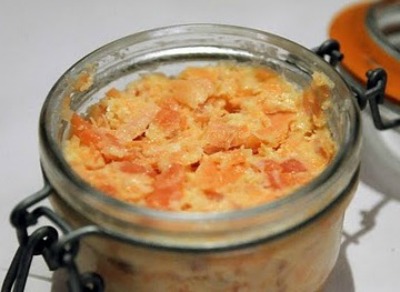 Salmon Rillettes – Rillettes aux Duex Saumons:
Smoked Salmon in Cucumber Cups Recipe
Ingredients:
1 pound center-cut wild-caught salmon, skin and pinbones removed, trimmed and dark flesh removed
2 tablespoons Pernod
8 tablespoons unsalted butter
1/2 cup shallots, minced
1 tablespoon creme fraiche
8 ounces un-sliced, chilled smoked salmon
2 1/2 tablespoons fresh-squeezed lemon juice
1 tablespoon high-quality extra-virgin olive oil
2 egg yolks
1 tablespoon fresh chives, finely chopped (optional)
Salt and white pepper
* Can also substitute any smoked fish of your choice.
Instructions:
Set out the butter and smoked salmon to bring them to room temperature. Cut the smoked salmon into a 1/4-inch dice.
Place the salmon fillet in a glass baking dish and sprinkle each side with 1 tablespoon of Pernod, 1 teaspoon salt, and 1/4 teaspoon white pepper. Refrigerate, covered with plastic wrap, for 1 hour, turning after 30 minutes.
Set up a pot with a steamer rack and bring the water in the bottom to a simmer. Add the salmon and steam gently until medium-rare, about 8 minutes. Alternatively, if you don't have a steamer rack, you can poach the salmon.
Meanwhile, melt 1 tablespoon butter in a small pan over medium heat. Add the shallots, season with 1/4 teaspoon salt, and saute, stirring, until softened, about 4 to 5 minutes. Don't allow them to brown.
In a small bowl, stir the remaining 7 tablespoons butter until smooth and creamy. Add creme fraiche and stir to combine. Set aside.
In a large bowl, combine steamed salmon, diced smoked salmon, sauteed shallots, lemon juice, olive oil, egg yolks, and chives. Season with salt and white pepper. Fold in the butter mixture and combine well.
Salmon RillettesTransfer salmon mixture to ramekins, canning jars, or pots, leaving a half inch of space at the top of each. Refrigerate 30 minutes.
Meanwhile, heat clarified butter over medium heat until liquid. Pour a half inch layer of butter over each pot of salmon and return to the refrigerator to solidify.
To serve, remove and discard the butter seal. Serve spread on toasted baguette, crackers, cucumber slices, or spoons.
Makes 8 servings of 1/4 cup.
https://whatscookingamerica.net/LindaSandberg/Appetizers/RillettesAuxSalmon.htm
Comments and Reviews