Pasta with Roasted Cauliflower and Anchovies recipe features roasted cauliflower and anchovies.   This my version of the popular Italian pasta recipe.  This pasta is so good that you'll want to lick the bowl!    If you love roasted cauliflower as I do, you will absolutely love this Pasta with Roasted Cauliflower and Anchovies dish.  Even if you think you are not an anchovy lover, you probably will not mind them, as once the anchovies are fried, the anchovies melt into the background and provide the dish with rich and savory undertones.  This pasta with roasted cauliflower dish will make you an anchovy lover in the future.
This dish is basically a variation of the famous Italian
Spaghetti all Puttanesca
recipe.  In Italian, a puttana is a lady of the night.  This pasta is also know as whore's pasta.  It is said that Spaghetti alla Puttana is a quick pasta preparation made popular as a fast snack between clients.  Spaghetti alla Puttanesca pasta dish is found throughout Italy, although it is particularly popular in Rome.
Check out Linda's Pasta Hints and Tips and Pasta, Rice, and Main Dish Recipes.  Learn How To Cook Perfect Pasta.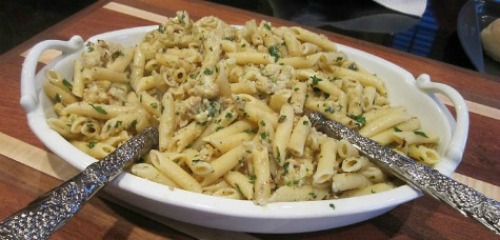 Pasta with Roasted Cauliflower and Anchovies Recipe:
Italian Pasta with Roasted Cauliflower and Anchovies Recipe
Ingredients:
1 head cauliflower
1/4 cup plus 2 tablespoons extra-virgin olive oil
Coarse salt and freshly-ground black pepper to taste
1 pound small tubular pasta (such as penne pasta)
4 large cloves garlic, coarsely chopped
1 jalapeno chile pepper (stems, ribs, and seeds removed), chopped
4 anchovy fillets in oil, drained and chopped*
3/4 cup bread crumbs
1/2 cup finely-grated Parmesan cheese
1/4 cup finely-chopped flat-leaf parsley
Coarse salt and freshly-ground black pepper to taste
* Use only good-quality Spanish or Portuguese anchovies. Anchovy paste may be substituted (approximately two inches squeezed from the tube will provide the equivalent taste of one anchovy fillet). More anchovy fillets may be added according to your personal taste.
Instructions:
Preheat oven to 400 degrees F. Line a large, rimmed baking sheet with parchment paper.
Rinse cauliflower and cut into quarters. Cut off and discard leaves and cores; cut quarters into 1/4- to 1/2-inch thick slices or wedges.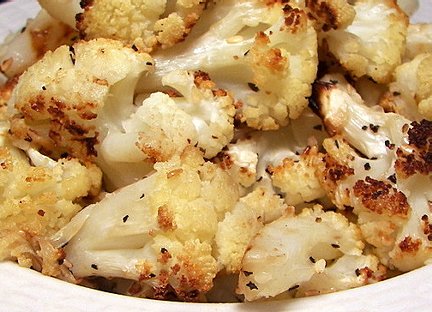 In a large bowl or a re-sealable plastic bag, toss the cauliflower with the 2 tablespoons olive oil, salt, and pepper. Transfer the seasoned cauliflower to the prepared baking sheet and spread in a single layer. Bake the cauliflower approximately 20 to 25 minutes, turning every 10 minutes, or until cauliflower is browned or caramelized on edges and tender. Remove from oven and let cool.
Do ahead: Roasted Cauliflower can be prepared one day in advance. Cover and refrigerator until ready to use.
Prepare the pasta according to package directions; drain and return to pan to keep warm. Reserve 1 cup of the pasta water to add to the prepared dish, if needed.
While the pasta is cooking, prepare the sauce. In a large frying pan over medium-low heat, warm the remaining 1/4 cup olive oil. Add the garlic and cook, stirring until just lightly golden, approximately 2 minutes. Add the chile pepper and continue cooking, stirring another 1 minute or until just warm. Add the anchovies and continue cooking, stirring, until the anchovies dissolve for another 2 minutes. Gently stir in the cooked cauliflower. Remove the pan from the heat.
Immediately toss the prepared cauliflower mixture with the pasta. Add the reserved 1 cup of pasta water, stirring to combine. A dd the bread crumbs, parmesan cheese, and parsley; toss to combine. Season to taste with salt and pepper. ransfer to a large serving bowl and serve immediately.
https://whatscookingamerica.net/Pasta_Rice_Main/PastaCaulifloweAnchovies.htm
Comments and Reviews