Linguine with Tomatoes and Basil is the perfect pasta recipe for those hot summer days when you garden is plentiful with fresh vine-ripened tomatoes and fresh basil.
Just thinking of this outstanding Linguine with Tomatoes and Basil pasta dish makes me eager for summer!  This pasta dish is a simple, classic Italian-style fare that makes the most of summer's tomatoes.
Pasta Hints and Tips and more delicious Pasta Recipes, Tomato Recipes, and lots more Salad Recipes.
Please check out my Hot Summer Nights Dinner Menu which includes this pasta dish.
Linguine with Tomatoes and Basil Recipe:
Linguine with Tomatoes and Basil Recipe
Ingredients:
6 very ripe large tomatoes, peeled, seeded, and cut into bite-size chunks
1/2 cup extra-virgin olive oil
1 cup fresh basil leaves, cut into strips
1 cup freshly-grated Parmesan Cheese (Parmigiano-Reggiano)
3/4 cup sliced black olives
1/2 cup sliced pimiento-stuffed green olives
4 cloves garlic, minced
Salt to taste
1 teaspoon coarsely-ground pepper
1 (16-ounce) package uncooked linguine pasta
Freshly-grated Parmesan Cheese(Parmigiano-Reggiano)
* Learn How To Peel Fresh Tomatoes.
Instructions: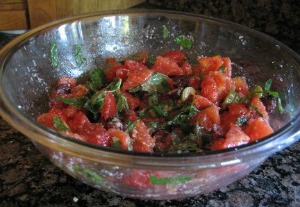 In a large bowl, combine tomatoes, olive oil, basil, Parmesan cheese, black olives, green olives, garlic, salt, and pepper; stir until blended. Cover and let stand at room temperature 2 hours.
Cook pasta according to package directions; drain and return to pan. Learn How To Cook Pasta Properly.
Add tomato mixture and toss to coat thoroughly.
Transfer onto individual serving plates and garnish with additional parmesan cheese.
Makes 4 to 6 servings.
https://whatscookingamerica.net/Pasta_Rice_Main/lingtom.htm
Comments and Reviews