When fresh strawberries are in season it is time to make Strawberry Cake.  Every June in the Pacific Northwest, for a very short season, we are blessed with Hood strawberries the sweetest, juiciest drops of sunshine you will ever eat.  For many localities around the world, strawberries are now available year round, yet nothing beats fresh ones.  A quick drive from town to a local farm and you can pick your own, or stop at the Farmer's Market to buy a flat of the juicy gems that are native to your area.
I enjoy strawberries fresh by the handful or in one of my favorite recipes to brighten it up and make it special.  This strawberry cake recipe is perfect for any occasion and requires no baking which makes it the perfect quick and easy dessert.
The blend of pound cake, chocolate, and whipped cream enhances the strawberry and will delight your family or guests, with very little work on your part.  You can vary the ingredients between layers by using white chocolate, edible spring flowers or mint.  This cake recipe is so easy, even the kids can make it.  Spread out a large towel on the kitchen table and adorn the children with aprons and let them create a simply perfect Mother's Day or Father's Day dessert. They will feel proud to be able to make this strawberry cake recipe on their own, and it will give you great photo opportunities.
This strawberry cake recipe is by our contributing baker, Peggy Weaver.  Peggy says, "My train of thought is that it is likely a young person will be making a dessert for Mom on Mother's Day.  Time is usually in short supply and young folks are just learning their way around the kitchen.  So, this is my very simple to make.  If you want to, you can make your own pound cake."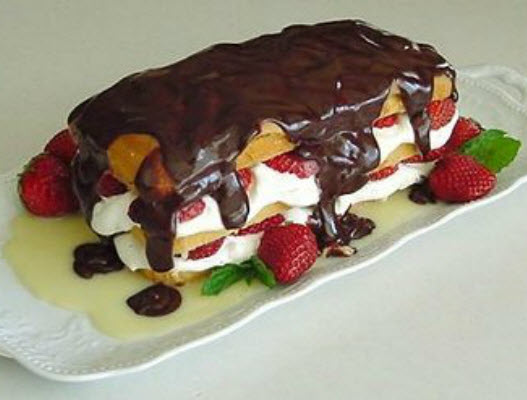 Strawberry Cake Recipe – Mother's Day Cake:
Strawberry Cake Recipe - Mother's Day Cake
Ingredients:
1 (11-ounce size) Sara Lee frozen pound cake
16 ounces of fresh Strawberries
1 pint container of whipping cream, divided
1 teaspoon granulated sugar
3 ounces white chocolate
2 ounces semi-sweet chocolate
Optional Ingredients:
Mint sprigs
Preferred liqueurs for variations
Instructions:
The first thing you need to do is to thoroughly read the recipe and double check the ingredients to make sure that you have all of the items you will need for your dessert. Open the pound cake and defrost according to the directions printed on the paper lid. Please keep the whipping cream chilled in the refrigerator until needed
Notice in the picture that there are a few different types of chocolate. You do not need to use them all, just a white chocolate and a dark chocolate for the best flavor but choose the best brands that you can afford.
For this project, I used the Bakers brand of chocolate because it is a product that most folks can purchase at the local grocery.
If you pick up the larger size of Pound Cake at the market, you might need more whipping cream. I believe that you will have enough berries, and you could make a little more semi-sweet Chocolate Ganache.
Wash and gently pat dry your strawberries. Depending on the size of the strawberries that you purchase, pick out about 8 berries of the prettiest to decorate the plate with at the end. Pick out 12 to 15 berries to slice and cut their green tops off. I like to cut a medium-size strawberry into 4 slices each. Set aside for a few minutes.
Slice the Pound cake into 3 equal slices (the length of the cake.) I like to cut the cake when it is partly frozen. It is easier to cut that way.
Notice the top of the cake in the picture. This often happens so don't worry. I just gently slice of the high edges of the flaw. The chocolate that we pour over the cake later will cover up any problems.
Set your items aside.
To whip the whipping cream, you will need a large metal or glass bowl. I have found that sometimes the cream will not whip in plastic bowls, it goes straight to butter. That's nice too, but we don't want that today.
You also need a hand mixer.
Pour 1 1/4 cups of the chilled cream into the bowl and start whipping.
When it starts to thicken, stop the mixer, add the sugar and continue whipping to soft peaks.
Place the bottom cake layer on your serving plate.
If you are going to use a Liqueur wash (see optional variations at the bottom of the page), brush it on now.
Cover the cake layer with half of the whipped cream then a layer of strawberries.
Place the second layer on and repeat the steps.
Finish by placing the top layer on the cake.
If you need to smooth out a damaged top, slice the top edge of the cake to soften the rough edges.
Place the cake into the refrigerator to keep cool.
You can stop at this point if you need to. Cover the cake with tented aluminum foil and keep refrigerated for up to 4 hours.
It's time to make the Ganache
On this cake I used two (2) different types of topping. You can use just one (1) topping, but more is better.
White Chocolate Ganache: To make the White Chocolate Ganache, unwrap or weigh 3 ounces of White Chocolate.
On a cutting board, finely chop the white chocolate and place in a cup, or as I prefer, a clean and dry, Pyrex measuring cup. It already has a convenient pouring spout.
Pour 1/4 cup of whipping cream over the chocolate in the cup and place in the microwave. Microwave for 15 seconds intervals and stir in between each round. It will probably need about a 1 minute 15 seconds to get the Ganache hot. Stir until all of the chocolate and cream are combined and if necessary microwave it a bit more. Let the White Ganache sit on the counter to cool while you prepare the Semi-Sweet Chocolate Ganache.
Semi-Sweet Chocolate Ganache: Chop your dark chocolate and prepare it the same way you did the White Chocolate. You will use 2 ounces of the semi-sweet and 1 ounce of whipping cream.
Heat and stir in 15 second intervals until the Ganache is very warm. Stir the chocolate thoroughly and add more cream if you need to. You want the Ganache to pour like Maple Syrup.
When the White Chocolate is no warmer than body temperature, remove the cake from the refrigerator and slowly pour the White Chocolate over the cake. Allow it to gently run off over the edge and make puddles of chocolate on the serving plate.
When the coating of White Ganache has hardened, gently pour the Semi-Sweet Chocolate Ganache over the top and allow it to flow over the edge to make little dark puddles of chocolate on top of the White Chocolate Ganache. If you want to, you can take a clean dry spoon and make little swirls on the top of the cake.
Place a few strawberries on the plate, mint leaves, or edible flowers for your presentation.
Make sure that you pick a flower that has not been sprayed with pesticides then gently wash the flower in running water and blot dry with a paper towel. Poke the stem into the side of the cake to help hold them on to the plate and serve with a smile.
Check out Linda Stradley's web page on Cooking with Edible Flowers.
Variations on the Cake:
I personally love the taste of a liqueur on a cake. The benefit is that the desserts flavor is almost always improved and the cakes texture is moister because of the added liquid. I advise that you use a pastry brush and brush at least 2 tablespoons of your chosen flavor per layer. With some flavors like a coffee liqueur you can be more generous.
On this cake, I like to use Kahlua or Tia Maria. Occasionally I will even use Amaretto. Open yourself up to new flavor combinations. An Orange liqueur would go very well with the strawberries and Rum wouldn't be bad either. A neighbor suggested Peppermint Schnapps.
If you want to go non-alcoholic you could mix 2 tablespoons of Espresso Powder, 4 tablespoon very hot water, and 1 tablespoon of sugar together for your flavor wash. A light brushing of Lemonade or Limeade Concentrate would work well. There is also a world of flavors made by Torani Syrups and Da Vinci Syrups. They are referred to as coffee syrups or as soda syrups.
If your cake is using raspberries for the fruit, Amaretto would go very well. Do not forget Frangelico which is a Hazelnut Liqueur. If you love a licorice flavor, Galliano is a good choice. Are you daring enough to try Watermelon Flavor Syrup and Raspberries?
A cake that uses Blackberries would be delicious with a Framboise wash.
As to different filling options, make a white chocolate pudding and use that instead of the whipping cream. Make a Chocolate Mousse and use Raspberries for the fruit.
Have fun!
https://whatscookingamerica.net/PegW/StrawberryCake/StrawberryCake.htm
Comments and Reviews