Grilled Ginger Pork Tenderloin Recipe is from my first cookbook called What's Cooking America.  This Grilled Ginger Pork Tenderloin makes for a wonderful taste sensation that your family and friends are sure to love.  You will be surprised how low in calories and fat this delicious pork tenderloin roast recipe is!  I try to always keep a couple of these uncooked  pork roasts in my freezer for last minute dinners.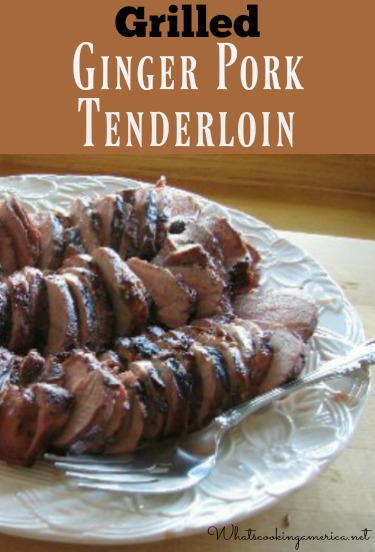 For more great Low Fat Recipes, Low Calorie Recipes, Low Carbohydrate recipes, and Diabetic Recipes, check out my Diet Recipe Index.  Also check out my Nutritional Chart for fat grams, fiber grams, and calories for all your favorite foods.
More great Pork Recipes.
Grilled Ginger Pork Tenderloin Recipe:
Grilled Ginger Pork Tenderloin Recipe
Ingredients:
1 (2-pound) pork tenderloin roast
2 cloves garlic, minced
1 teaspoon freshly-grated ginger
1/3 cup soy sauce
2 tablespoons granulated sugar
2 tablespoons water
1 tablespoon extra-virgin olive oil
Instructions:
For a more flavorful and succulent pork roast, brine your pork roast according to my Guidelines for Brining Pork.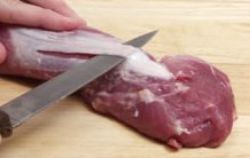 Trim the tenderloin roast of fat and silver skin (see photo on left). Silver skin is a silvery-white connective tissue. It does not dissolve when the tenderloin is cooked, so it needs to be trimmed away. If the silver skin is not trimmed off, it will cause the tenderloins to curl up into the shape of a quarter moon.
Score the meat at various points across the width of the tenderloin and set aside.
Place roast in a large re-sealable plastic bag and set into a shallow dish. In a small bowl, combine garlic, ginger, soy sauce, sugar, water, and olive oil; pour mixture over pork roast and close bag. Marinate in the refrigerator at least 2 hours or overnight, turning roast occasionally to distribute marinade.
When ready to cook, drain off marinade (discarding marinade). Bring roast to room temperature before cooking.
Preheat Barbecue grill. Place roast onto hot grill; close the lid and grill for 7 minutes. Turn the roast over, close the lid, and grill for another 6 minutes. Turn off the heat (keep the lid closed) and continue to cook the pork for another 5 minutes. After 5 minutes, insert an instant-read meat thermometer into thickest part of the roast. The internal temperature should read 145 to 150 degrees F. (if not, close the lid and let the pork continue to roast). NOTE: Once brined, the pork cooks faster - so be careful and use a thermometer inserted into the thickest part of the meat. The meat will remain pink from the brine.

This is the type of cooking and meat thermometer that I prefer and use in my cooking. I get many readers asking what cooking/meat thermometer that I prefer and use in my cooking and baking. I, personally, use the Thermapen Thermometer shown in the photo on the right. To learn more about this excellent thermometer and to also purchase one (if you desire), just click on the underlined: Thermapen Thermometer.
Remove from grill and transfer onto a cutting board; let roast stand 15 minutes before carving (meat temperature will rise 5 to 10 degrees after it is removed from the oven).
Transfer onto a serving platter.
Makes 4 to 6 servings.
https://whatscookingamerica.net/Pork/GingerTenderloin.htm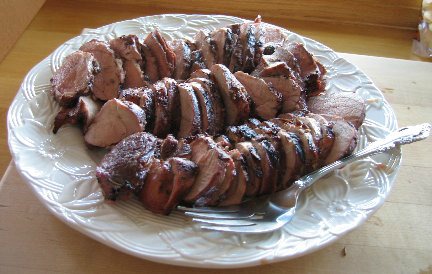 Comments and Reviews