Pork Chops Supreme is a favorite comfort food pork chop recipe that my family loves.  This was one of my favorite recipes to make when I was just learning to cook.
The recipe originally came from the Betty Crocker Cookbook from the 1960s.  My mother gave me this cookbook when I got married.  It was one of the first dishes that I every cooked.  My husband loved it then and he still does!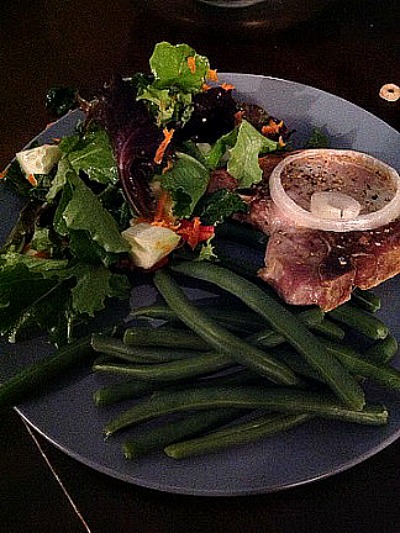 For more great Low Fat Recipes, Low Calorie Recipes, Low Carbohydrate recipes, and Diabetic Recipes, check out my Diet Recipe Index.  Also check out my Nutritional Chart for fat grams, fiber grams, and calories for all your favorite foods.
More great Pork Recipes.
Pork Chops Supreme Recipe:
Ingredients:
4 pork loin or rib chops, about 3/4-inch thick
Salt and coarsely ground black pepper to taste
Thin onion slices, about 1/4-inch thick
4 thin lemon slices, about 1/4-inch thick
1/4 cup packed brown sugar
1/4 cup ketchup*
* Chili sauce or your favorite barbecue sauce may be substituted.
Instructions:
Preheat oven to 350 degrees F.
Sprinkle both sides of the pork chops with salt and pepper. Place pork chops in an ungreased shallow baking pan. Top each pork chop with a onion slice, a lemon slice, 1 tablespoon brown sugar, and 1 tablespoon ketchup.
Cover and cook for approximately 20 minutes. Uncover and cook spooning sauce over the chops occasionally, an additional 29 to 30 minutes or until the internal temperature reaches a temperature of 155 degrees F. on a meat thermometer. Remove from oven and serve.

This is the type of cooking and meat thermometer that I prefer and use in my cooking. I get many readers asking what cooking/meat thermometer that I prefer and use in my cooking and baking. I, personally, use the Thermapen Thermometer shown in the photo on the right. Originally designed for professional users, the Super-Fast Thermapen Thermometer is used by chefs all over the world. To learn more about this excellent thermometer and to also purchase one (if you desire), just click on the underlined: Thermapen Thermometer.
Makes 4 servings.
Each Serving Totals - 3 Fat Grams, 157 calories, 3.9 WW Points
https://whatscookingamerica.net/Pork/PorkChopSupreme.htm
Comments and Reviews