Doug Mabry is an accomplished historian with an expert's knowledge of esoteric subjects like the tragic Trail of Tears, a barbaric event.  Mabry is one of the least likely scholars to come upon long buried facts about the origin of wines in America and places like romantic Savannah that played a huge role in the introduction and distribution of these wines.  Or, so it seemed until I sat down with him and learned things as fascinating as my days in graduate school.
"Before the domestic wine industry was essentially destroyed by Prohibition," Mabry told me, "over 20,000 acres of vineyards planted by immigrant farmers were in West Georgia." Italians, Germans, Hungarians, and even Swedes established a multicultural wine domain, and according to Mabry, were "selling wines of all sorts across America."
Mabry is bold, calling his research conclusions "Napa East."
Much of the wines produced there were varietals I had come upon over the years, including the wonderfully sweet Hungarian Tokay.  German/American Rieslings are no stranger in my cellar, either.
But, Mabry's work became a quest for the origin of a fabulous red wine I enjoyed about 10 years ago in Texas called Spanish Red.  Dry Comal Creek, a winery deep in the Lone Star State, makes it and it is recalled as opaque, deep purple to near black and knock-out delicious with grilled meats, particularly goat, lamb and beef.
It is generally accepted that Spanish Red came into Texas and the Southwest through Spanish monks and conquistadors.  "I am convinced," says Mabry, "that this is the grape called Lenoir, that was brought into Savannah, Georgia by French Huguenots.  It became very popular and with migration into the west, went along with other agricultural products."  Mabry will bet the ranch he is correct.
The growing significance of this intense research is that it helps consumers understand the universal characteristics of wines as more that a small region, and connects those of us who love wines today with those pioneers long ago who made all this possible.
New Zealand Wines:
Autumn just began, and I celebrated with some great wines from this emerging wine-producing nation.  A nice afternoon tasting wines with Winemaker Simon Fell of New Zealand's Villa Maria Estate provided an introduction into his new Riesling along with New Zealand staples like Sauvignon Banc and Pinot Noir. One thing New Zealand wines have down to perfection is food-friendly wine.
Villa Maria was founded in 1961 and Mr. Fell continues a tradition that led Villa Maria to become a New Zealand wine icon, often pushing the boundaries of winemaking in this country.  Villa Maria was the first wine company in New Zealand sealing all wines from the 2004 vintage onwards with a screw cap and was also the first New Zealand producer to employ professional viticulturists.
Simon Fell revealed that he sources grapes from New Zealand's grape growing regions of Marlborough, Hawkes Bay, Gisborne, and Waipara and produces wines in Auckland and Marlborough.  "The Villa Maria portfolio," he said, "consists of four wine ranges-our private bin, cellar selection, reserve and single vineyard."  We sampled glasses of wines representing each of the four, pairing them with cheeses, soups, scallops and vegetables which showcased the fruit-driven New Zealand style.
Inspired by this delightful experience, and because autumn is here, I asked the accomplished Chef Derek Barnes who owns the award-winning Derek's Culinary Casual restaurant in Sarasota, Florida to provide an October recipe that pairs with the white wines of New Zealand.  From Sauvignon Blanc to newcomers like Riesling and Viognier, you will discover some taste thrills with this combination.
This recipe has been adapted from Chef Derek Barnes of Derek's Culinary Casual restaurant, Sarasota, Florida.  Chef Barnes likes to serve this delicious Pumpkin Bisque with Lavender Marshmallows and Candied Pecans.  Chef Barnes says, "I began this as an item for fall menus.  Now patrons request it beginning in September and even August.  It is very popular."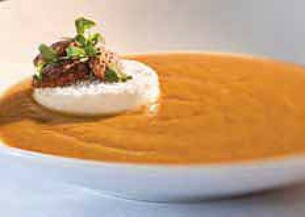 Roasted Pumpkin Bisque with Lavender Marshmallows Recipe:
Keyword:
Roasted Pumpkin Bisque with Lavender Marshmallows Recipe
Servings
:
6
to 8 Servings
Ingredients
Roasted Pumpkin Bisque:
1

(3-pound) pie

pumpkin,

roasted*

5

tablespoons

butter

1

small

onion,

small dice

5

cloves

garlic,

minced

4

cups

vegetable stock

2

tablespoons

aged sherry vinegar

1/4

teaspoon

cloves,

ground

1/4

teaspoon

mace,

ground

1/4

teaspoon

ginger,

ground

1/4

teaspoon

allspice,

ground

Coarse salt

and white pepper to taste

1

cup

heavy cream

Candied Pecans
Lavender Marshmallows:
5

gelatin

sheets or 3 teaspoons powdered unflavored gelatin

1 to 2

tablespoons culinary

lavender flowers,

dried

1

cup granulated

sugar

1/4

cup light

corn syrup

1/4

cup

water,

hot

1/4

teaspoon

salt

3

tablespoons culinary

lavender,

dried

1

large

egg

white

1/2

teaspoon

pure vanilla extract

1/2

cup

powdered sugar

(confectioners' sugar), for dusting
Instructions
Roasted Pumpkin Bisque Instructions:
Prepare Lavender Marshmallows (at least 3 hours or up to 1 day) before serving.

Preheat oven to 350 degrees F.

Rinse the pumpkin under warm water to remove any dirt or debris. Using a sharp knife, cut the pumpkin in half. Remove the seeds and discard. Lay the pumpkin halves, face down, in a large baking dish. Poke the skin side with a fork in several places on both pieces. Add enough water to cover.

Bake for approximately 45 to 60 minutes or until tender. Length of time will vary according to the size of your pumpkin. Use a fork to check for tenderness. Remove from oven and let cool.

Once the pumpkin is cool enough to handle, scoop out the insides of the pumpkin and discard the skin.

NOTE: May be stored in the refrigerator for up to 5 days.

In a medium-size pan over low heat, melt the butter. Add the onion and garlic; sautuntil translucent, approximately 4 minutes.

Deglaze the pan with the vegetable stock and the sherry vinegar. Add the roasted pumpkin. Add the cloves, mace, ginger, allspice, salt, and white pepper and let simmer for approximately 1 hour; remove from heat.

Pur the soup with a handheld immersion blender or your food processor until no lumps remain. Return the blended soup to the soup pot. Add the cream. Over low heat gently reheat the soup before servings.

Serve with Lavender Marshmallows and Candied Pecans.
Lavender Marshmallows Instructions:
Oil the bottom and sides of a 1/2 sheet pan and then dust with powdered sugar.

Bloom the gelatin sheets in ice water for approximately 5 minutes and then remove and gently squeeze to remove any excess water. Add to the bowl of your electric mixer; set aside. For powdered gelatin, add to a few tablespoons of warm water and stir until dissolved; let sit 3 to 5 minutes before using.

In a mortar, finely grind lavender flowers with the pestle. NOTE: You may also use your blender.

In a medium-size saucepan over low heat, add the lavender, sugar, corn syrup, hot water, and salt. Cook, stirring with a wooden spoon, until sugar has dissolves. Increase heat to medium and let the mixture boil, without stirring, until a candy or digital thermometer registers 240 degrees F. or syrup reaches the firm-ball stage (when a small amount of syrup is dropped into very cold water forms a ball that holds its shape when pressed), approximately 12 minutes; immediately remove from heat.

Pour hot sugar mixture over the gelatin mixture, stirring until gelatin is dissolved; set aside.

In another large bowl with clean beaters, beat egg white until it just hold stiff peaks. On high speed, beat the stiff egg white and vanilla extract into the hot sugar mixture until thick and nearly tripled in volume, approximately 6 minutes. Pour mixture into prepared baking pan; sift 1/4 cup powdered sugar evenly over top.

Refrigerate marshmallow, uncovered, until firm (at least 3 hours or up to 1 day).

Run a thin knife around edges of pan and invert pan onto a large cutting board. Lifting up one corner of inverted pan, with fingers loosen marshmallows and let them drop onto cutting board. With a large knife, trim edges of marshmallows and cut into desired shapes./font>

Sift remaining powdered sugar into a large bowl. Add marshmallows in batches, tossing to evenly coat.

Store either, covered with plastic wrap, in the refrigerator, or in an airtight container.
Recipe Notes
* Choose sugar pie pumpkins or other flavorful varieties.  Pie pumpkins are smaller, sweeter, less grainy textured pumpkins than the usual jack-o-lantern types.  Grocery stores usually carry them in late September through December in the U.S.
---
Article by Doc Lawrence:  Doc Lawrence is a veteran food and wine journalist based in Atlanta and Fort Lauderdale.  Doc Lawrence writes and lectures regularly about subjects in which he is a recognized and acknowledged expert – wine and food, theater, travel and cultural tourism, visual art and music.  His works have earned praise from many editors and publishers.
Comments and Reviews