This recipe was adapted from a recipe from the Blue Sky Cafe in Manzanita, Oregon.  The original recipe appeared in the Oregonian newspaper on Tuesday, January 6, 2004.  The original recipe called for double-cut pork chops.  Since this cut of pork is harder to find, I substituted pork loin.
This savory Pumpkin Sage Bread Pudding would also make a great side dish for a turkey or chicken dinner.


Pork Loin with Pumpkin Sage Bread Pudding Recipe:
Pork Loin with Pumpkin Sage Bread Pudding Recipe
Ingredients:
2 (2-pound) pork tenderloin roasts
3/4 cup coarse salt
3/4 cup granulated sugar
1 cup boiling water
1 gallon cold water
Pumpkin Sage Bread Pudding (see recipe below)
Coarsely-ground black pepper
3 cups chicken broth*
1 cup heavy cream
* Learn how easy it is to make your own homemade chicken broth.
Instructions: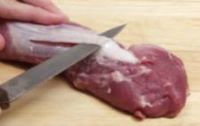 Trim the tenderloin of fat and silverskin. Pat the roast dry with paper towels.
Note: Silverskin is a silvery-white connective tissue. It does not dissolve when the tenderloin is cooked, so it needs to be trimmed away. If the silverskin is not trimmed off, it will cause the tenderloin to curl up into the shape of a quarter moon.
To make brine: Check out my guidelines for making brine.
To determine how much brine you will need, place the meat to be brined in your chosen container. Add water to cover. Remove the meat and measure the water. A heavy-duty plastic tube, stainless-steel bowl, or resealable plastic bag can work as a brining container, as long as the pork is fully submerged. Weight with a plate, if necessary, to keep the meat fully covered by the brine.
Dissolve salt and sugar in the boiling water. Add it to the cold water; add pepper and stir to combine. Chill brine completely in the refrigerator before adding pork. Place your pork in the water and place in the refrigerator for 6 to 12 hours. Rinse pork twice after removing it from the brine solution; discard brine. If you are not ready to cook at the end of the brining time, remove and rinse the meat thoroughly. Refrigerate until ready to use.
Prepare and bake Pumpkin Sage Bread Pudding (see recipe below).
Preheat oven to 375 degrees F. Bring the pork roast to room temperature before cooking. Place the pork tenderloins in a roasting pan and season with coarsely ground pepper. Roast for 30 to 45 minutes or until a meat thermometer inserted into the thickest part of the pork registers 140 degrees F. NOTE: Do not salt brined meat before cooking. Do not overcook your brined pork. Once brined, the pork cooks faster so be careful and use a thermometer inserted into the thickest part of the meat.

This is the type of cooking and meat thermometer that I prefer and use in my cooking. I get many readers asking what cooking/meat thermometer that I prefer and use in my cooking and baking. I, personally, use the Thermapen Thermometer shown in the photo on the right. To learn more about this excellent thermometer and to also purchase one (if you desire), just click on the underlined: Thermapen Thermometer.
Remove from the oven, cover loosely with aluminum foil, and let rest in the pan for approximately 15 minutes or until the Pumpkin Sage Bread Pudding is done. During this time, the pork continues to cook (meat temperature will rise 5 to 10 degrees after it is removed from the oven) and the juices redistribute.
Drain the pan juices into a saucepan. Using the chicken broth, deglaze the roasting pan, scraping up all the bits of pork from the bottom. Add the deglazing liquid to the saucepan. Bring the liquid to a boil and boil until liquid is reduced by half. Add the cream and return to a boil and reduce by one-third to half, or until thick and bubbly. NOTE: If the pan gravy is not quite thick enough, stir 1 tablespoon of flour into 1/4 cup cold water; stir into the gravy. Bring to a boil and cook for 1 to 2 minutes to thicken. Keep warm until bread pudding is ready.
To serve, slice pork crosswise into 1/4-inch to 1/2-inch slices. Place a large scoop of Pumpkin Sage Bread Pudding in the center of the plate. Place the sliced pork on top of the bread pudding. Drizzle pan gravy over all and serve hot.
Makes 4 to 6 servings.
https://whatscookingamerica.net/Pork/PorkPumpkinBreadPudding.htm
Pumpkin Sage Bread Pudding Recipe:
1 (8-ounce) crusty French banquette bread, cut into cubes
2 tablespoons butter
1 small onion, diced
1/2 cup diced celery
1 tablespoon minced garlic
1/2 cup (2 ounces) freshly grated Parmesan cheese
3/4 cup canned pumpkin
4 eggs
1 to 1 1/2 cups milk (divided)
1 tablespoon salt
1/2 tablespoon ground black pepper
1/4 cup chopped fresh sage leaves
Preheat oven to 375 degrees F.  Butter a 9-inch by 9-inch baking pan.  Place the bread cubes in a large bowl; set aside.
In a large frying pan over low heat, melt the butter.  Add the onion, celery, and garlic; saute approximately 5 to 7 minutes or until onions are translucent.  Add mixture to the bread cubes along with the Parmesan cheese.
In a medium bowl, whisk together the pumpkin, eggs, 1 cup milk, salt, pepper, and sage.  Pour mixture over bread cubes and toss to combine.  Let mixture sit for 30 to 45 minutes to allow bread to absorb the liquid.  If mixture seems dry after sitting, add remaining 1/2 cup milk and mix well.  Pour mixture into prepared baking pan; cover with a sheet of buttered aluminum foil.
Bake for approximately 1 hour or until the pudding is set and still moist.
Remove from oven and let cool.
Comments and Reviews