Julia Child's Coq au Vin
Coq au Vin (Casserole of Chicken in Red Wine) is Julia Child's recipe for this famous chicken dish.  Coq au Vin, also known as "Rooster in Red Wine," is a French recipe made famous by Child and was featured in her 1961 cookbook,
Mastering the Art of French Cooking
.
  Most of Julia's cookbooks included this recipe.  In every version in Julia's cookbooks, she slightly updates the recipe.  I have not changed the recipe, but have slightly updated the wording for easier understanding.
This dish is probably the most famous of all French chicken dishes, and certainly one of the most delicious, with its rich red wine sauce, its tender onions and mushroom garniture, and its browned pieces of chicken with their wonderful flavor.  Ideal for a party because you may prepare it completely a day or more before serving.  In fact, Coq au Vin seems to be even better when done ahead so all its elements have time to steep together.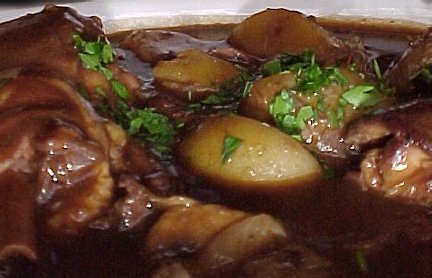 History:  Coq Au Vin is a Burgundian dish, and is considered a French comfort food.  The traditional recipe for Coq au Vin did not include chicken, but rather a "Coq," which is a rooster.  A lot of recipes originally called for old barnyard fowl, roosters, capon (a de-sexed rooster), and old laying hens.  Coq au Vin was originally considered peasant food, and the farmers would make do with what they had on hand.
The red wine in the recipe was used not to mask flavor, but to allow the acids to help break down the old meat of the rooster.  True coq Au Vin was actually finished with the blood of the rooster stabilized with brandy and vinegar, this would help the blood not clot.
More great Poultry Recipes.
Coq au Vin Chicken Recipe:
Coq Au Vin Chicken Recipe
Ingredients:
2 1/2 to 3 pounds cut-up frying chicken, skin on and thoroughly dried (I used skinless boneless breasts and thighs instead)*
4 ounces lean thick-cut bacon
2 tablespoons olive oil
Salt and pepper
1/4 cup cognac
2 cups red wine (Pinot Noir, Burgundy, Beaujolais or Chianti)**
2 cups homemade chicken stock or low-sodium chicken stock or broth
1 tablespoon tomato paste
2 cloves garlic, mashed or minced
1 bay leaf
1/4 teaspoon thyme
Brown-Braised Onions (see recipe below)
Mushrooms (see recipe below)
3 tablespoons all-purpose flour
2 tablespoons butter, softened
Parsley sprigs
* The U.S. Department of Agriculture, as well as food agencies in the United Kingdom and elsewhere, advises against washing poultry. Rinsing chicken will not remove or kill much bacteria, and the splashing of water around the sink can spread the bacteria found in raw chicken. Cooking poultry to 165 degrees Fahrenheit effectively destroys the most common culprits behind food-borne illness.
** Avoid bold, heavily-oaked red wine varietals like Cabernet.
Instructions:
Dry chicken thoroughly in a towel. Season chicken with salt and pepper; set aside.
Remove any rind off the bacon and cut the bacon into lardons (rectangles 1/4-inch across and 1-inch long). In a saucepan, simmer the bacon sticks in 2 quarts of water for 10 minutes; remove from heat, drain, rinse in cold water, and pat dry.
In a large heavy frying pan, casserole dish, or electric skillet over medium heat, heat olive oil until moderately hot. Add the bacon and saute slowly until they are lightly browned. Remove bacon to a side dish. Place chicken pieces into the hot oil (not crowding pan), and brown on all sides. Return bacon to the pan, cover pan, and cook slowly for 10 minutes, turning chicken once.
After browning the chicken, uncover pan, pour in the cognac. Flambe by igniting with a lighted match. Let flame a minute, swirling pan by its handle to burn off alcohol; extinguish with pan cover.
Pour the red wine into the pan and add just enough chicken broth to completely cover the chicken pieces. Stir in tomato paste, garlic, bay leaf, and thyme. Bring the liquid to a simmer, then cover pan, and simmer slowly for about 30 minutes or until the chicken meat is tender when pierced with a fork or an instant-read meat thermometer registers an internal temperature of 165 degrees F.

This is the type of cooking and meat thermometer that I prefer and use in my cooking. I get many readers asking what cooking/meat thermometer that I prefer and use in my cooking and baking. I, personally, use the Thermapen Thermometer shown in the photo on the right. To learn more about this excellent thermometer and to also purchase one (if you desire), just click on the underlined: Thermapen Thermometer.
While the chicken is cooking, prepare the Brown-Braised Onions and the Mushrooms (see recipe below).
When the chicken is done cooking, remove from the pan to a platter, leaving the cooking liquid in the pan. Increase heat to high and boil the cooking liquid rapidly until approximately 2 cups of liquid remains.
While the liquid is boiling, in a small bowl, blend the 3 tablespoons flour and 2 tablespoons softened butter into a smooth paste; beat the flour/butter mixture into the approximately 2 cups hot cooking liquid with a whisk. Simmer and stir for a minute or two until the sauce has thickened (the result will be a sauce thick enough to lightly coat a spoon - just thick enough to coat the chicken and vegetables lightly). If sauce is too thin, boil down rapidly to concentrate; if sauce is too thick, thin out with additional spoonfuls of chicken stock. Taste the final sauce, adding more salt and pepper if necessary.
Before serving, reheat the onions and mushrooms (if necessary).
Storing: Chicken is now ready for final reheating, but can be set aside in the sauce until cool, then covered and refrigerated for 1 to 2 days. To reheat, simmer slowly, covered, over low heat. Baste and turn chicken every 2 minutes until thoroughly warmed through (6 to 8 minutes). NOTE: Do not overcook chicken at this point.
To serve immediately: Shortly before serving, bring the sauce and the cooked chicken to a simmer, cover and simmer slowly for 4 to 5 minutes, until chicken is hot through.
To serve: Either serve from the casserole dish or arrange the chicken on a large platter. Pour the sauce over the chicken. Arrange the Brown-Braised Onions on one side of the chicken and the Mushrooms on the other side. Decorate with sprigs of parsley. Accompany with parsley potatoes, rice, or noodles; buttered green peas or a green salad; hot French bread; and the same red wine you used for cooking the chicken. NOTE: This dish is traditionally served with wide egg noodles.
Makes 4 to 6 servings.
Brown-Braised Onions:
12 to 24 small white onions, peeled (or double the amount if you want to use tiny frozen peeled raw onions)*
1 to 2 tablespoons olive oil
Salt to taste
* If neither frozen nor fresh pearl onions are available, substitute one large onion cut into 1/2-inch pieces. (Do not use jarred pearl onions, which will turn mushy and disintegrate into the sauce.)
While chicken is cooking, drop onions into boiling water, bring water back to the boil, and let boil for 1 minute. Remove from heat and drain. Cool onions in ice water. Shave off the two ends (root and stem ends) of each onion, peel carefully, and pierce a deep cross in the root end with a small knife (to keep onions whole during cooking).
In a large frying pan over medium heat, heat the olive oil, add parboiled onions, and toss for several minutes until lightly browned (this will be a patchy brown). Add water to halfway up onions and add 1/4 to1/2 teaspoon salt. Cover pan and simmer slowly for 25 to 30 minutes or until onions are tender when pierce with a knife.
NOTE: Onions may be cooked in advance, set aside, then reheated when needed. Season to taste just before serving.
Mushrooms:
1/2 pound fresh mushrooms, washed, well dried, left whole if small, sliced or quartered if large
1 tablespoon butter
1/2 tablespoon olive oil
Prepare mushrooms. In a large frying pan over medium heat, heat butter and olive oil; when bubbling hot, toss in mushrooms and saute over high heat for 4 to 5 minutes or until lightly browned. Remove from heat.
NOTE: Mushrooms may be cooked in advance, set aside, then reheated when needed. Season to taste just before serving.
https://whatscookingamerica.net/Poultry/CoqAuVin.htm
Comments and Reviews