Dijon Chicken is very moist and tender chicken.  The Dijon sauce is flavorful and very easy to whip up.  Just the right amount of tang and zest.  Chicken and Dijon mustard make a perfect pair.  Using yogurt on this chicken makes it very easy to make and so delicious.  You could use any chicken parts that you and your family desire when making this recipe.  Excellent for a family dinner or even company.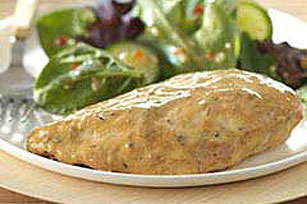 Dijon Chicken Recipe:
Ingredients:
2 tablespoons Dijon-style mustard, smooth or whole grain or a mixture of both
1/2 cup plain non-fat yogurt
4 chicken breasts halves (3-ounce each), boneless and skinless*
1/4 cup bread crumbs**
* The U.S. Department of Agriculture, as well as food agencies in the United Kingdom and elsewhere, advises against washing poultry. Rinsing chicken will not remove or kill much bacteria, and the splashing of water around the sink can spread the bacteria found in raw chicken. Cooking poultry to 165 degrees Fahrenheit effectively destroys the most common culprits behind food-borne illness.
** Learn to make Homemade Bread Crumbs.
Instructions:
Preheat oven to 350 degrees F. Coat a baking dish with vegetable spray.
In a small bowl, combine mustard and yogurt; stirring until well blended; brush mixture over both sides of chicken. Sprinkle both sides with bread crumbs and lightly pat with your hands. Place chicken on prepared baking dish.
Bake 20 to 25 minutes, covered, or until a meat thermometer registers an internal temperature of 165 degrees F. (juices will run clear when cut with the tip of a knife). The last 10 minutes of cooking, remove cover to allow chicken to lightly brown. Remove from oven, transfer onto a serving platter, and serve immediately.

This is the type of cooking and meat thermometer that I prefer and use in my cooking. I get many readers asking what cooking/meat thermometer that I prefer and use in my cooking and baking. I, personally, use the Thermapen Thermometer shown in the photo on the right. To learn more about this excellent thermometer and to also purchase one (if you desire), just click on the underlined: Thermapen Thermometer

Makes 4 servings.
Per Serving - 3 Fat grams, 5.5 carbohydrates, 185 calories, 4 WW points
https://whatscookingamerica.net/Poultry/DijonChicken.htm
Source:  Photo courtesy of Kraft Foods.
Comments and Reviews