Categories:
Chicken
Condiments - Sauces - Butters - Relishes - Jam and Jelly Recipe
Dinner
Healthy Recipe Index (Low fat, Low Calorie, Low Carb)
Oranges
Orange Marmalade Chicken is another outstanding and easy chicken dish to serve your family.  My family loves this chicken dish.  I used low-sugar orange marmalade to cut some of the sugar in this delicious chicken.  It has a great combination of flavors which are not too sweet. but just right.  This is a very simple chicken dish to make, plus very tasty – so give it a try.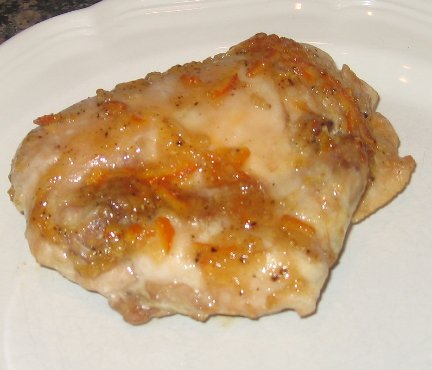 For more great Low Fat Recipes, Low Calorie Recipes, Low Carbohydrate recipes, and Diabetic  Recipes, check out my Diet Recipe Index.  Also check out my Nutritional Chart for fat grams, fiber grams, and calories for all your favorite foods.
More great Poultry Recipes and learn how to Brine Poultry for a moister and tastier dish.
Orange Marmalade Chicken Recipe:
Orange Marmalade Chicken Recipe
Ingredients:
1 teaspoon olive oil
4 cloves garlic, minced
4 teaspoons firmly-packed brown sugar
2 tablespoons low-sugar orange marmalade*
Salt and coarsely-ground pepper to taste
2 chicken breasts halves (3-ounce each), boneless and skinless**
* I like to use the Smucker's brand of marmalade.
**The U.S. Department of Agriculture, as well as food agencies in the United Kingdom and elsewhere, advises against washing poultry. Rinsing chicken will not remove or kill much bacteria, and the splashing of water around the sink can spread the bacteria found in raw chicken. Cooking poultry to 165 degrees Fahrenheit effectively destroys the most common culprits behind food-borne illness.
Instructions:
Preheat oven to 400 degrees F. Line a shallow baking pan with aluminum foil; spray with non-stick cooking spray.
In a small non-stick frying pan over low heat, add olive oil and heat until hot. Add garlic and cook 2 to 3 minutes until garlic begins to soften (be careful not to let garlic brown). Remove from heat and stir in brown sugar, orange marmalade, salt, and pepper until well blended.
Place chicken breasts halves in prepared baking pan; spread garlic mixture evenly over chicken.
Bake approximately 20 minutes or until a meat thermometer registers an internal temperature of 165 degrees F. (juices will run clear when cut with the tip of a knife). Remove from oven and transfer onto a serving plate.

This is the type of cooking and meat thermometer that I prefer and use in my cooking. I get many readers asking what cooking/meat thermometer that I prefer and use in my cooking and baking. I, personally, use the Thermapen Thermometer shown in the photo on the right. To learn more about this excellent thermometer and to also purchase one (if you desire), just click on the underlined: Thermapen Thermometer.
Serve immediately.
Makes 2 servings.
Each Serving Totals - 5.5 Fat Grams, 18 carbohydrate grams, 229 calories, 5.5 WW Points
https://whatscookingamerica.net/Poultry/MarmaladeChicken.htm
Comments and Reviews