Questions and Answers – What is Beau Monde Seasoning Salt
Question:
My grocery store makes a spinach dip that I absolutely love!  If I am going to continue to eat it, I must cut the fat.  The ingredients are listed on the container and I believe I can accomplish this.  However, one of the ingredients is "beau monde."  I don't have a clue what that is.  Can you help me?
Answers: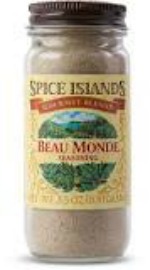 Beau Monde Seasoning Salt – This seasoning can be found in the spice section of your grocery store.  I have a bottle in my cupboard made by Spice Islands.  If you can not find it, ask your grocer to stock it for you.
If you can not find this seasoning salt in your local grocery store, how about making you own with the recipe below?
Beau Monde Seasoning Salt Recipe:
Beau Monde Seasoning Salt Recipe
Ingredients:
1 tablespoon ground cloves
1 1/4 teaspoons ground cinnamon
1 tablespoon salt
1 tablespoon ground bay leaf
1 tablespoon ground allspice
2 tablespoons ground pepper
1 tablespoon ground white pepper
1 teaspoon ground nutmeg
1 teaspoon ground mace
1 teaspoon celery seed
Instructions:
In a small mixing bowl, mix together all ingredients. Pour into a tightly closed jar and store in a cool, dry place.
Yields approximately 9 tablespoons.
https://whatscookingamerica.net/Q-A/beaumonde.htm
Comments and Reviews