I made this Chopped Greek Salad for a family dinner when my young grandsons were visiting.  They loved the salad served this way!  Try experimenting with different salad variations chopped up small for your picky eaters.
Growing up as a little girl, I remember my Grandma fixing chopped salads for all of the younger kids.  It is a great trick to introduce small children to salad since the pieces are chopped up so small.
More wonderful Salads and Salad Dressing Recipes.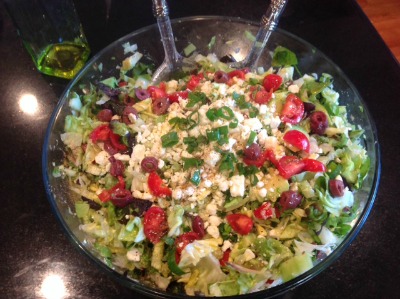 Chopped Greek Salad Recipe:
Chopped Greek Salad Recipe
Ingredients:
3 heads of Romaine lettuce, finely chopped*
2 cucumbers, peeled and finely chopped
1/2 cup (1 bunch) of green onions, finely chopped
1/2 cup Kalamata olives, pitted and sliced**
1/2 cup grape tomatoes, cut in quarters
1/2 cup feta cheese, crumbled
Greek Salad Dressing (see recipe below)
* Approximately 10 cups of chopped lettuce.
** Can purchase jars of Kalamata olives that are pitted.
Instructions:
Separate the Romaine leaves and discard the coarse outer leaves. I also like to remove the woody rib from from the Romaine leaves by tearing away the outer leaves from the rib. Wash, drain, and pat dry with paper towels or spin dry the remaining leaves. Remove all moisture from lettuce and vegetables before chopping, otherwise they will get soggy, This is because as you chop, you release more moisture.
In a large bowl, toss together lettuce, cucumber, green onions (reserving 1 tablespoon), Kalamata olives, tomatoes, feta cheese (reserving 1 tablespoon) and set aside. Cover and refrigerate until ready to serve.
Prepare Greek Dressing.
When ready to serve, toss the salad with the prepared Greek Salad Dressing. NOTE: Go light on the dressing, as a little goes a long way with a chopped salad. You do not want a soggy, messy salad.
Garnish the top with the reserved green onions and feta cheese and serve.
Greek Salad Dressing:
2 tablespoons extra-virgin olive oil
1/2 tablespoon champagne vinegar
1/2 fresh lemon, juiced
Salt and pepper to taste
In a small bowl, combine olive oil, champagne vinegar, and fresh lemon, juice; whisk until combined.
https://whatscookingamerica.net/Salad/Chopped-Greek-Salad.htm
Comments and Reviews