Egyptian Watermelon Feta Salad is a delightful recipe shared with What's Cooking America by Chef Maha Basoom and her website Maha's Fine Egyptian Cuisine.  This is a very refreshing and delightful Egyptian Watermelon Feta Salad recipe that is sure to please everyone you serve it to.

Maha specializes in Egyptian cooking and teaches cooking classes on Egyptian cuisine all over North America and Europe.  Maha says, "Egyptian Watermelon Feta Salad was my Dad's favorite salad and is mine too!  Not only it is full of healthy juices, but it is super delicious, tasty, and inexpensive.  Most barbecues go hand in hand with the cool crunch of a big juicy watermelon.  Just try one bite and you will be hooked!  The cool, crunchy watermelon is the perfect companion to a good meal in a hot summer day and is the perfect base for the salty feta; it creates the balance of savory and sweet."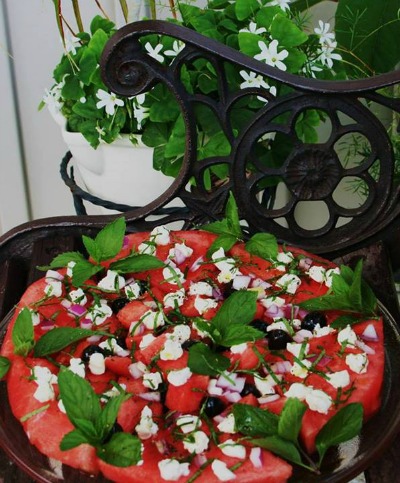 Egyptian Watermelon Feta Salad Recipe:
Egyptian Watermelon Feta Salad Recipe
Ingredients:
1/2 medium-size watermelon, sliced into wedges and rind removed*
4 ounces feta cheese, crumbled
1/3 cup finely-diced red onion
1/2 cup of pitted black olives (sliced or left whole)
Fresh mint leaves (1/2 cup finely chopped, plus save few whole springs for garnish)
1 tablespoon extra-virgin olive oil
1/8 teaspoon fresh-ground black pepper (optional)
* Learn about watermelons and the Egyptian-style of roasting watermelon seeds.
Instructions: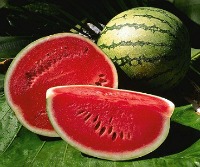 On a large serving platter, arrange sliced watermelon.
Sprinkle the watermelon slices with feta cheese, red onions, black olives, and chopped mint.
Drizzle a little olive oil on top and sprinkle with black pepper.
Garnish with mint springs, serve, and enjoy!
Makes 6 to 8 servings.
https://whatscookingamerica.net/Salad/Egyptian-WatermelonFeta-Salad.htm
Comments and Reviews