Categories:
Condiments - Sauces - Butters - Relishes - Jam and Jelly Recipe
Lemons
Salad & Salad Dressing Recipes
Salad Dressings & Vinaigrettes
Lemon Vinaigrette Recipe is one of my favorite and basic go-to salad dressings!  It will freshen up any spring or summer salad and only takes a few minutes to make.  If you like lemon recipes as I do, you will love this delicious salad dressing.
I am always making this salad dressing for my salads because it is so easy to make and so good.  To make this dressing properly, you MUST used fresh-squeezed lemon juice and not bottled lemon juice.  That is the key ingredient.  Can also be served over cooked asparagus, broccoli, and fresh tomato slices.  Be creative and enjoy!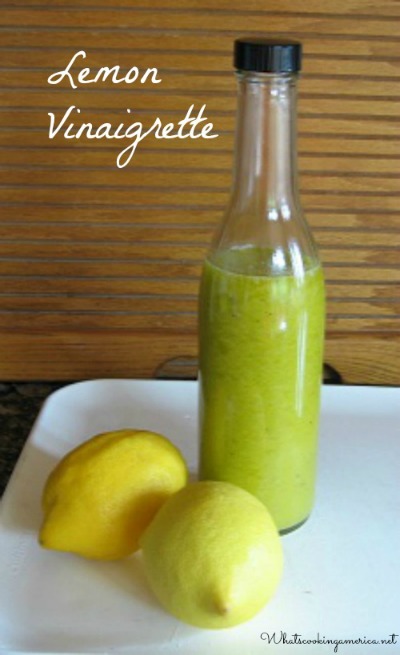 Favorite Lemon Vinaigrette Recipe:
Favorite Lemon Vinaigrette Recipe
Ingredients:
1/4 cup extra-virgin olive oil (can use hazelnut or walnut oil)
2 tablespoons freshly-squeezed lemon juice*
1/2 teaspoon Dijon-style mustard
3/4 teaspoon fresh thyme leaves, chopped**
1 clove garlic, minced
3/4 teaspoon coarse salt
Pinch coarsely-ground black pepper
* To make this Lemon Vinaigrette properly, you must use fresh-squeezed lemon juice and not bottled lemon juice.
** Sometimes, I just omit the thyme leaves. Depends on my mood! You could use other herbs of your choice, if desired.
Instructions:
In a jar or bowl, combine olive oil, lemon juice, mustard, thyme, garlic, salt, and pepper.
Store, covered, in the refrigerator. This vinaigrette keeps for about one week.
Serve at room temperature. Shake or stir just before serving.
Yields 1/4 cup Lemon Vinaigrette.
https://whatscookingamerica.net/Salad/LemonVinaig.htm
Comments and Reviews