Baked Salmon with Dill Sauce is so easy to make and so delicious!  This wonderful Dill Mustard Sauce really compliments the salmon's delicate flavor.  The moist fresh taste of the salmon and dill just seem to go together as if they were made for one another.
If you are fortunate enough to live near the ocean, you know what fresh salmon tastes like.  It melts in your mouth and you just cannot get enough.  It is a great gluten-free dish is great for a warm summer evening when salmon is in season.  If you have the ability to stock up your freezer with fresh salmon then you can enjoy it anytime of year.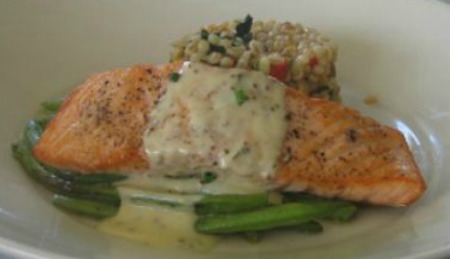 Baked Salmon with Dill Sauce Recipe
Ingredients:
Dill Mustard Sauce (see recipe below)
1 (2- to 3-pound) salmon fillet (1 1/2-inches thick)
3 tablespoons extra-virgin olive oil
Coarse salt and freshly-ground black pepper
Instructions:
Prepare Dill Mustard Sauce; refrigerate until ready to serve.
Preheat oven to 350 degrees F. Line the bottom of an ungreased baking pan with aluminum foil.
Wash salmon fillet and pat dry. Rub with olive oil, sprinkle with coarse salt and pepper, and place skin-side down onto prepared baking pan.
Bake salmon, uncovered, 12 to 15 minutes or until a meat thermometer registers an internal temperature of 140 to 145 degrees F. (salmon will be slightly opaque in thickest part). NOTE: During this time the salmon continues to cook (salmon temperature will rise 5 to 10 degrees after it is removed from the oven) and the juices redistribute.
Avoid Over Cooking Salmon! The biggest mistake most people make in cooking salmon is to over cook it. Resist the temptation to over cook your salmon until it "flakes." Flaking indicates the salmon is becoming dry and overcooked.

This is the type of cooking and meat thermometer that I prefer and use in my cooking. I get many readers asking what cooking/meat thermometer that I prefer and use in my cooking and baking. I, personally, use the Thermapen Thermometer shown in the photo on the right. To learn more about this excellent thermometer and to also purchase one (if you desire), just click on the underlined: Thermapen Thermometer.
Carefully remove salmon from pan and transfer onto individual serving plates. Serve with the cold Mustard Dill Sauce.
Makes 4 to 6 servings.
Dill Mustard Sauce:
1/2 cup mayonnaise
1/2 cup sour cream
3 tablespoons minced fresh parsley leaves
2 tablespoons Dijon-style mustard
2 tablespoons minced fresh dill weed
2 teaspoons freshly-squeezed lemon or lime juice
Salt and freshly-ground pepper to taste
In a small bowl mix together mayonnaise, sour cream, parsley, Dijon mustard, dill weed, lemon juice, salt, and pepper.
Cover bowl with plastic wrap and refrigerate for at least 3 hours before serving.
https://whatscookingamerica.net/SalmonDill.htm
Comments and Reviews