Seared Scallops with Autumn Spice are the perfect meal for the autumn season or any time of the year.  This is an easy-to-make yet elegant dish that you an serve for a dinner party or just as a quick family meal.  The fantastic cranberry jam takes this dish to new heights!  Be sure and give this scallop dish a try.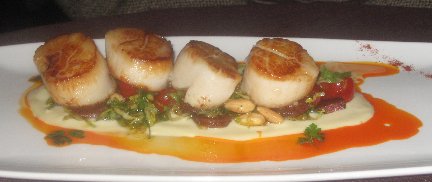 More of Linda's great Seafood Recipes.
Please check out my seven-course Butter-Poached Lobster Tails dinner menu and Fermenting Friends Winery Dinner which includes these wonderful Seared Autumn Spiced Scallops.
Seared Autumn Spice Scallops Recipe:
Seared Scallops with Autumn Spice Recipe
Ingredients:
1 cup fresh cranberries
1 cup water
1/4 to 1/3 cup honey (depending on the sweetness you prefer)
1/2 teaspoon ground cinnamon
1/2 teaspoon ground cloves
1/2 teaspoon ground nutmeg
1/2 teaspoon coarsely-ground black pepper
1/2 teaspoon coarse salt
Extra-Virgin olive oil
12 large sea scallops*
* Most purchased scallops are wet-packed and have been soaked in a liquid solution that keeps them looking white. To remove this solution, rinse the scallops thoroughly and then pat them dry with paper towels. If you can find "dry-packed" scallops (which have not been soaked), you do not need to rinse them. Scallops have an adductor muscle (sometimes called a "foot") on it's side. It is a tough little tab of meat that you should cut off before cooking the scallop because it can be kind of chewy.
Instructions: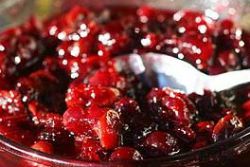 In a medium-size saucepan over medium heat, bring cranberries, water, and honey to a boil. Reduce heat to low, cover, and simmer until cranberries are soft, approximately 15 minutes. Remove from heat; drain excess liquid from the cranberries (the consistency should be like jam); discard liquid. Store cranberries in refrigerator until ready to serve.
In a small dish, combine cinnamon, cloves, nutmeg, pepper, and salt. Lightly coat both sides of each scallop with the spice mixture; set aside.
In a large frying pan over medium-high heat, add olive oil to coat bottom of pan (I like to use my Cast Iron Pan for searing). Place scallops in the pan; sear each side for approximately 4 minutes or until an instant-read cooking or meat thermometer inserted into their centers reach 115 degrees F. Remove from heat. The carryover cooking will add another 10 to 15 degrees, for an ideal final temperature of 125 to 130 degrees F. They should also have lost their translucence and turn opaque.

This is the type of cooking and meat thermometer that I prefer and use in my cooking. I get many readers asking what cooking/meat thermometer that I prefer and use in my cooking and baking. I, personally, use the Thermapen Thermometer shown in the photo on the right. Originally designed for professional users, the Super-Fast Thermapen Thermometer is used by chefs all over the world.
To serve, place a small amount of the prepared cranberry jam on each individual serving plate. Place 2 to 4 scallops on each plate. Garnish as desired.
Makes 4 to 6 servings.
https://whatscookingamerica.net/SearedScallops.htm
Comments and Reviews