I slightly adapted this Corn Velvet Soup with Dungeness Crab recipe from Stephanie Inn Cookbook, written with Lori McKean and the Stephanie Inn staff.  Stephanie Inn, located in Cannon Beach, Oregon, is my husband's and my favorite retreat on the Oregon coast.
Corn Velvet Soup with Dungeness Crab is so delicious served with the Pacific Northwest famous Dungeness Crab.  Ideal to serve at a dinner party to really impress your dining partners.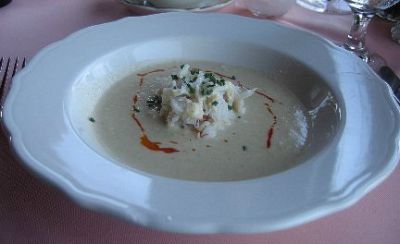 Learn about Corn Hints, Tips, and Information and here for more great tips on How To Grill Corn On The Cob.
Corn Velvet Soup with Dungeness Crab Recipe:
Corn Velvet Soup with Dungeness Crab Recipe
Ingredients:
3 tablespoons butter
3 tablespoons vegetable oil
2 medium-size white onions, diced
2 cloves garlic, minced
2 leeks (white part only), cleaned and diced
8 ears of fresh corn
4 cups water
1 bay leaf
2 cups heavy cream
Coarse salt and white pepper to taste
Tabasco Sauce to taste
9 ounces fresh Dungeness crabmeat, picked through to remove shells
Hot red chili oil for garnish
Chopped chives for garnish
Instructions:
In a large soup pot or skillet, heat the butter with the vegetable oil over medium heat. Stir in the onions, garlic, and leeks. Cook over low heat, covered, for approximately 10 to 15 minutes, stirring occasionally, until the onions are very tender.
Meanwhile, slice the corn kernels from the cobs.
Cutting corn off the cob: In a shallow bowl, hold ears of corn upright and, with a sharp knife, cut kernels from the cobs. Then with blunt edge of the knife, scrape juice from cobs. Set the corn aside and reserve the cobs for the broth.
Pour the 4 cups of water into the onion mixture; add the bay leaf and the corn cobs; bring the mixture just to a boil. Reduce the heat to a simmer and cook for about 20 minutes. Remove and discard the cobs.
Add the corn kernels and the heavy cream, and simmer until the mixture is reduced by 1/3 (about 35 minutes). Working in batches, puree the soup in a blender or food processor; then pass the soup through a fine sieve. Reheat the soup over medium heat, stirring occasionally, until hot. Season with salt, white pepper, and Tabasco.
To serve, ladle into pre-warmed soup bowls. Distribute the crab evenly in the center of the soup bowls and garnish each bowl with chopped chives. Dot with red chili oil around the edges.
Makes 6 servings.
https://whatscookingamerica.net/Soup/CornVelvetSoup.htm
Comments and Reviews