I have won two local chili contest with my chili con carne recipe, including one that had a Texan on the judging committee.  If a Texan can give my chili a "thumbs up," it must be great!  Remember there are no beans in a true Texas chili, but I like to add some beans, but not too much.
This is one of those recipes that I just do.  I have estimated the amount of each ingredient I have used in making this recipe below.  If you want to add more or less of an ingredient (or even leave one out), feel free to do so.  It is very hard to "wreck" a chili con carne.
Learn about the history and legends of Chili, Chili Con Carne.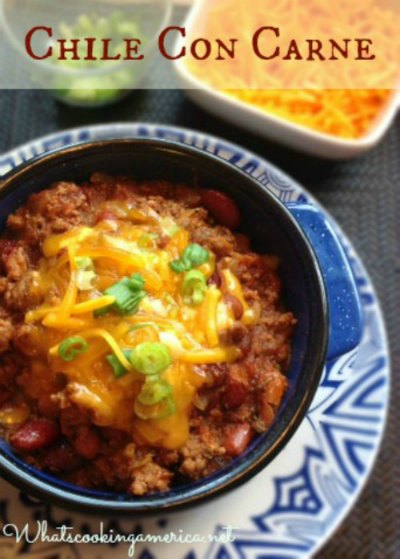 Linda's Chili Con Carne – The Best Chili Recipe:
Linda's Chili Con Carne - The Best Chili Recipe
Ingredients:
2 to 3 pounds lean ground beef
1 or 2 large chopped onions
6 cloves garlic, finely chopped
1 tablespoon dried ground cumin or to taste
1 tablespoon dried oregano or to taste
2 tablespoons chili powder
1-2 fresh chile peppers, seeds removed & diced (jalepeno or serrano)
Coarse salt and freshly-ground black pepper to taste
3 to 4 cups tomato puree, tomato sauce, or fresh tomatoes, coarsely chopped (or a combination of all three)
2 cups red wine*
2 to 3 (14 1/2 ounce) cans beef broth**
1 to 2 tablespoons molasses***
2 cans black beans or kidney beans, rinsed and drained
Grated sharp cheddar cheese
Sour cream
Chopped green onions
* Red wine can be omitted and replaced with beef stock or water.
** Water may also be substituted for some of the liquid.
*** Molasses helps cut down the acidity of the tomatoes. Honey may also be substituted.
Instructions:
Stove Top Method:
In a large soup pot or cast-iron Dutch oven over medium-high heat, saute ground beef, onion, and garlic until the meat becomes gray in color; drain off fat and discard. Add cumin, oregano, chili powder, chili peppers, salt, pepper, tomatoes, red wine and beef broth. Reduce heat to low and simmer, covered, approximately 3 to 4 hours, stirring often. Note: Additional beef broth, water, or wine may be added as needed.
Add molasses to taste to cut down the acidity of the tomatoes. Add beans and continue to simmer another 30 minutes. NOTE: During the last 30 minutes of cooking, do a lot of tasting and adjust seasoning to taste.
For maximum flavor, cool chili and refrigerate overnight so flavors will mellow as chili is best made 1 day ahead to allow the flavors time to marry.
When ready to serve, remove top layer of solidified fat, reheat chili over low heat, and serve in large individual bowls.
Set out garnishes for your chili (some chopped green onions, sour cream and shredded sharp cheddar cheese make great topping).
Makes 8 to 12 servings.
Slow Cooker (Crock Pot) Method:
Preheat slow cooker.
In a large frying pan over medium-high heat, cook ground beef until browned; drain off fat and discard. Add onion and garlic and saute until the onions become soft and translucent, approximately 3 to 4 minutes. Add cumin, oregano, chili powder, chili peppers, salt, and pepper. Stir into beef mixture and cook for a couple minutes longer.
Add the cooked beef mixture to the slow cooker along with tomato sauce, red wine, beef broth, molasses, and beans. Stir together to combine and cover with slow cooker lid. Cook on low heat for 8 to 10 hours or high heat for 4 to 5 hours.
Serve in bowls and garnish with your favorite toppings.
Makes 8 to 12 servings.
https://whatscookingamerica.net/Soup/LindaChili.htm
Chili Making Hints and Tips:
Too salty:  Chili that is too salty may be saved by boiling a peeled potato in the pot of chili (the potato will absorb a lot of the salt).
If your chili comes out too thin, either:
Continue to simmer the chili longer until more liquid is reduced.
Add some instant mashed potatoes.
Add some yellow corn flour.  This will also help absorb salt.  Simply make a corn flour and water slurry, and add it in until the chili reaches the consistency is you want.
Masa Harina is another thickener that works very well in chili.  It will add a slightly sweet hint to the chili, but it makes the consistency very nice.
Toss a grating of bitter chocolate into chili to give it body and mellow the flavors.
Famous and Not-So Famous Chili Recipes:

Arnold's "Old Leatherthroat" Chili Con Carne
Jack Arnold says, "I have been a chili lover ever since boyhood.  I didn't know then why I loved chili – I just did –  Now that I know more about chili, I realize how lucky I was to get hooked on it early in life."

Bowl Of Red – Classic Chili
The influence behind this chili recipe came from my maternal grandfather, who when working with the Santa Fe Railroad learned how to prepare it from the "cookies," or trail cooks.  It has won numerous chili cook-offs and is one of the really true original chili recipes.

Chasen's Famous Chili
Writing to Dave Chasen, owner of Chasen's Restaurant:  "The chili is so good.  All gone now.  Please send me ten quarts of your wonderful chili in dry ice to 448 Via Appia pignatelli. – Love and kisses, Elizabeth Taylor."  
– Elizabeth Taylor, on location in Rome, 1962

Chili H. Allen Smith
The first chili cook-off known to modern man took place in 1967 in uninhabited Terlingua, Texas (once a thriving mercury-mining town of 5,000 people).  It was a two-man cook-off between Texas chili champ Wick Fowler (a Dallas and Denton newspaper reporter) and H. Allen Smith (humorist and author), which ended in a tie – but I like to add some beans, but not too much.

Pedernales River Chili
This recipe is President Lyndon B. Johnson, 36th President of the United States, chili recipe.  Mrs. Lady Bird Johnson had cards printed with the LBJ's "Pedernales River Chili" recipe. She is quoted as saying,
"It has been almost as popular as the government pamphlet on the care and feeding of children."

Spicy Chili with Peppers

This delicious Spicy Chile with Peppers recipe and photo were shared with my by Karen Calanchini, Food Stylist and Photographer, of Redding, CA.  This version contains bison and beef.

Tolbert's Original Bowl of Red
Recipe by Frank X. Tolbert, from his book, A Bowl of Red.Frank Tolbert founded the Terlingua International Chili Championship in Terlingua, Texas and owned a chain of chili parlors in Dallas, Texas.
Comments and Reviews