Chili concocted outside of Texas is usually a weak, apologetic imitation of the real thing.
One of the first things I do when I get home to Texas is to have a bowl of red.
There is simply nothing better."
– by Lyndon B. Johnson, 36th President of the United States
Pedernales River Chili recipe was President Lyndon B. Johnson's, 36th President of the United States, chili recipe. The chili was named after the location of his Texas Hill Country ranch.  This Pedernales River Chili recipe is so good and so very easy to make!
Mrs. Lady Bird Johnson had cards printed with the LBJ's "Pedernales River Chili" recipe.  The recipe was apparently so popular that Mrs. Johnson had it printed and mailed to satisfy the thousands of requests fielded from around the country.  She was quoted as saying that this recipe has been almost as popular as the government pamphlet on the care and feeding of children.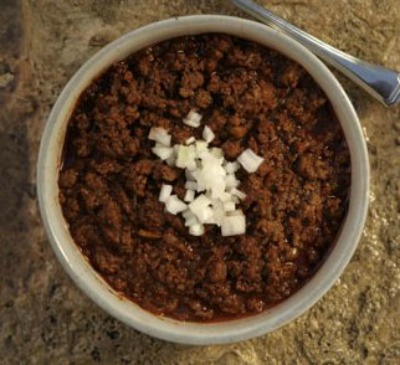 Pedernales River Chili Recipe
Ingredients:
4 pounds coarsely-ground beef (chili-grind)
1 large chopped onion
2 cloves garlic, minced
1 teaspoon dried oregano
1 teaspoon ground cumin
6 teaspoons chili powder
2 (16-ounce) cans whole tomatoes, cut up
2 to 6 dashes hot sauce, or to taste
Salt to taste
2 cups hot water
Instructions:
In a large frying pan, brown meat with onion and garlic until meat is lightly browned; transfer ingredients to a large heavy kettle or cast-iron Dutch oven.
Add oregano, cumin, chili powder, tomatoes, hot sauce, salt, and hot water. Bring just to a boil; lower heat and simmer, covered, for approximately 1 hour.
Remove from heat. Skim off grease and serve.
Serves 12.
https://whatscookingamerica.net/Soup/PedernalesChili.htm
Sources:  Pedernales River Chili Recipe is from the Lone Star Legacy, a cookbook put out by the Austin Junior Forum in 1981.  Photo by Evans Caglage of the Dallas Morning News, October 16, 2007.
Comments and Reviews