Broccoli Cream Soup is a low-calorie soup that's also rich tasting. This Broccoli Cream Soupis easy to make and quick to prepare.  Instead of using high-calorie cream, powdered dairy creamer is used to cut the calories.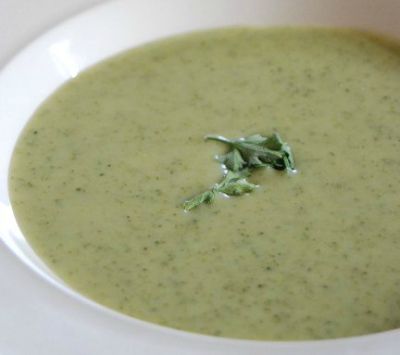 Broccoli Cream Soup Recipe:
Broccoli Cream Soup Recipe
Ingredients:
1/4 cup butter or margarine
1/2 cup diced onions
1/2 cup diced celery
1/4 teaspoon dried thyme, crushed
1/4 teaspoon dried oregano, crushed
1/4 teaspoon dried basil, crushed
2 cloves garlic, minced
1/4 cup all-purpose flour
10 cups vegetable or chicken broth*
1 small bunch (approximately 1 1/2 pounds) broccoli, chopped
2 cups powdered dairy creamer
Salt to taste
* Learn how easy it is to make your own homemade Chicken Stock - Basic Chicken Stock.
Instructions:
In a large soup pot over medium-high heat, melt butter or margarine.
Add onion, celery, thyme, oregano, basil, and garlic; saute 10 minutes or until vegetables are soft. Reduce heat to low; add flour and cook, stirring constantly, until flour is absorbed and rolls easily from edge of pan.
Add vegetable or chicken broth to vegetables and stir until all flour is dissolved. Simmer for at least 30 minutes.
Add broccoli and simmer another 20 minutes; stir in dairy creamer and salt. Remove from heat and serve in soup bowls.
Makes 6 to 8 servings.
https://whatscookingamerica.net/Soup/creambroccoli.htm
Comments and Reviews