Homemade Tartar Sauce is so delicious and easy to make that you will never want to buy tartar sauce from the store again.  Like I said – it's the best!  In fact, this homemade tartar sauce is so good that you want to grab a spoon and just eat it!
Tartar sauce is a classic dipping sauce for fish.  It is also great for dipping French fries.  Tartar Sauce, or sauce tartare as it was originally called in France, has been around a long time.  The sauce is thought to be named after the Tartars, Mongolian conquerers who roamed what is now Russia and its neighbors in the 5th century.
Check out Linda's Butters, Condiments, Sauces, Relish & Jelly Recipes for more great ideas.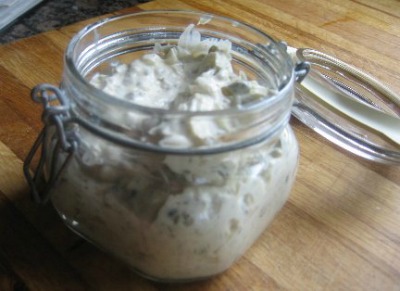 Homemade Tartar Sauce Recipe:
Homemade Tartar Sauce Recipe
Ingredients:
2 (1/8-inch) slices (approximately 1/3 cup) white or Spanish onion, diced
3 tablespoons capers, drained, patted dry, and then minced
1 tablespoon minced parsley
1 1/4 cups good-quality mayonnaise
1/8 teaspoon cayenne pepper or to taste*
1/4 to 1/2 teaspoon horseradish or to taste
* Be careful when adding the horseradish. Add a small amount at first, taste, and only then do you add more horseradish (if you desire).
Instructions:
In a medium-size bowl, combine onion, capers, parsley, mayonnaise, cayenne pepper, and horseradish until well blended.
Store, covered, in refrigerator until ready to use.
Makes 1 1/2 cups.
https://whatscookingamerica.net/TartarSauce.htm
Comments and Reviews