Troppo Squash Bomb Soup is a different and unique dish that is sweet but spicy.  It is the signature soup served at the Troppo Restaurant in Lansing, MI.  Executive chef, Jason Keusch, says, "This squash soup is a favorite of patrons, especially the ladies.  It is like a dessert before dinner as it is sweet but spicy, because of the cayenne pepper."
This is a wonderful vegetarian soup by omitting the optional prosciutto strips garnish.  It also can be easily transform to a vegan dish by using a cream substitute, such as, coconut cream, or a milk alternative.
Squash Hints, Tips, and Information, and here for more Squash Recipes.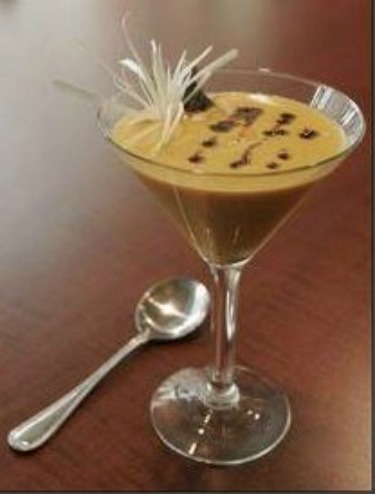 Troppo Squash Bomb Soup Recipe:
Troppo Squash Bomb Soup Recipe
Ingredients:
2 medium-size butternut squash*
1/2 to 1 cup Myers Dark Rum
1 1/2 cups heavy cream
Salt and pepper to taste
Red (cayenne pepper) to taste
* Butternut squash is easily found in supermarkets. Beige colored and shaped like a vase or a bell. This is a more watery squash and tastes somewhat similar to sweet potatoes. It has a bulbous end and pale, creamy skin, with a choice, fine-textured, deep-orange flesh with a sweet, nutty flavor. Some people say it is like butterscotch. It weighs from 2 to 5 pounds. The oranger the color, the riper, drier, and sweeter the squash. Butternut is a common squash used in making soup because it tends not to be stringy.
Instructions:
Preheat oven to 350 degrees F.
Cut the two butternut squash in half lengthwise; remove seeds and pulp (discard).

Wrap butternut squash in aluminum foil and bake in oven approximately 45 minutes or until soft; remove from oven and set aside.
In a small saucepan over medium heat, add Myers Dark Rum; let simmer until reduced by half. Reduce heat to low and add cream; heat just until warm and remove from heat.
In a food processor or blender, add warm squash and the warm cream. Puree until smooth. Adjust viscosity with additional heavy cream or water to achieve the thickness you want (the soup should coat the back of a spoon).
Add salt and pepper to taste. Add a very small pinch of cayenne pepper to achieve just a little burn in the back of your throat.
Serve with garnish of your choice (see below):
Prosciutto Strips
Banana Slices
Goat Cheese
Roasted Apples Slices


Makes 4 to 6 servings.
https://whatscookingamerica.net/TroppoSquashSoup.htm
Comments and Reviews