Cauliflower Gratin with Gruyere and Hazelnuts recipe is so very easy and simple to make.  It is another of my many favorite cauliflower recipes in my personal recipe files – it is actually one of my go-to recipes.
The recipe is a version of the classic French Cauliflower Gratin.  In this recipe, the class French Bechamel Sauce is substituted with creme fraiche.  Adding the hazelnuts gives this Cauliflower Gratin a nutty earthy flavor and also an Oregon spin!  Since I live in Oregon – this is a great way to highlight our wonderful hazelnuts (in Oregon these nuts are called filberts).
You will also find this is an outstanding make-ahead dish as it can be served as a main dish or a side dish – your choice.  It is a great meatless meal for your family and your vegetarian friends.  It is delicious no matter when or how you serve it.  All you need make this a perfect dinner is to add a green salad, crusty bread, and a glass of your favorite wine.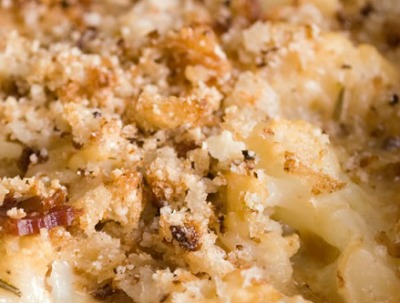 Cauliflower Gratin with Gruyere and Hazelnuts Recipe:
Cauliflower Gratin with Gruyere and Hazelnuts Recipe
Ingredients:
1 medium head cauliflower (2 1/2 to 2 3/4 pounds)
Salt
1/2 cup creme fraiche (store bought or homemade - see recipe below)
3/4 cup (3 ounces) grated Gruyere cheese, divided
Coarse salt and freshly-ground black pepper
3 tablespoons dry, unflavored bread crumbs
3 tablespoons hazelnuts, toasted and coarsely chopped*
2 tablespoons chopped chives or flat leaf parsley for garnish
* To toast hazelnuts, spread on a rimmed baking sheet and bake in a preheated 350-degree oven until browned and fragrant, approximately 6 to 8 minutes. Remove and when cool enough to handle, place nuts in a kitchen towel and rub together to remove as much of the skins as possible.


Instructions:
Preheat oven to 375 degrees F. Butter a 2-quart oven-to-table baking dish or gratin pan; set aside.
Cut off and discard base of cauliflower, then cut the head into small, individual florets.
Bring a large pot of water to a boil and salt generously. Add cauliflower florets to pot and cook until tender (but not mushy) when pierced with a sharp knife, about 5 minutes. Drain florets and thoroughly pat dry with a clean kitchen towel.
Place the drained and dried cauliflower in the prepared baking dish and toss with creme fraiche and half of the grated cheese. Season to taste with salt and pepper. Sprinkle remaining cheese over cauliflower, then top with bread crumbs and hazelnuts.
Bake on center rack of oven until cheese has melted and bread crumbs and nuts are golden, approximately 20 to 25 minutes.
Garnish with chives or parsley before serving.
Serves 5 to 6.


Creme Fraiche Recipe:
Cremw fraiche is available in many supermarkets. If you can't find it, the following recipe works well. It needs to be made at least 6 hours in advance.
1 cup heavy cream
1/3 cup sour cream
Whisk cream and sour cream together in a medium non-reactive bowl. Let stand at room temperature until thickened, 6 hours or longer. Cover and refrigerate. NOTE: Creme fraiche can be stored up to 1 week, covered, in refrigerator.
Makes about 1 1/3 cups.


https://whatscookingamerica.net/Vegetables/CauliflowerGratin.htm
Source:
This recipe is from an article in the Oregonian Food Day on December 6, 2005 by Betty Rosbottom.
Comments and Reviews