This is an absolutely delicious Cauliflower Cheese Pie with Potato Crust.  The wonderful smell of the crispy potato crust as it bakes will set your taste buds alive.  I like to serve this fantastic cauliflower pie with a nice green salad for dinner.
I slightly adapted this Cauliflower Cheese Pie with Potato Crust recipe from the Moosewood Cookbook by Mollie Katzen.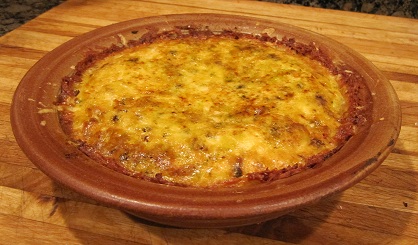 Cauliflower Cheese Pie with Potato Crust Recipe:
Cauliflower Cheese Pie with Potato Crust Recipe
Ingredients:
Potato Crust (see recipe below)
1/2 teaspoon coarse salt
2 eggs (or 1 whole egg plus 1 egg white)
1/4 cup milk
Freshly-ground black pepper
1/4 teaspoon paprika
1 tablespoon butter or vegetable oil
1 cup chopped onions
2 cloves garlic, minced
1/2 teaspoon salt
Black Pepper to taste
1/4 teaspoon dried thyme leaves
1/2 teaspoon dried basil leaves
2 tablespoons chopped fresh parsley leaves
1 medium-size cauliflower
1 3/4 cups grated Cheddar cheese, divided
Paprika
Tip: Use your food processor with grating attachment to grate cheese, potato, and onion (In that order). No need to clean your food processor in between ingredients.
Instructions:
Make Potato Crust and bake while you are preparing pie filling mixture.
Wash, remove core and leaves, trim, and coarsely chop the cauliflower.



In a small bowl, beat together 1/2 teaspoon salt, eggs, milk, pepper, and paprika: set aside.
In a frying pan over medium heat, heat butter or vegetable oil and then saute onions, garlic, and 1/2 teaspoon salt for 5 minutes. Add thyme, basil, parsley and cauliflower pieces; cook, covered, for approximately 9 to 10 minutes, stirring occasionally until cauliflower is tender. Remove from heat.
Layer the baked potato crust (ok if the crust is still hot) with 1/2 of the grated cheese. Spoon cauliflower mixture over the top of the cheese, then sprinkle with remaining cheese over the top. Pour the milk/egg mixture over the top and lightly dust with paprika.
Bake approximately 35 to 40 minutes until a knife inserted halfway between center and edge comes out clean or until the internal temperature registers 170 to 175 degrees F. on your cooking thermometer.
Remove from oven and serve. Serve either hot or warm.
Makes 1 (9-inch pie) - 4 to 6 servings.
Potato Crust Recipe:
2 firmly-packed cups grated raw potatoes
1/2 teaspoon coarse salt
1 egg white, lightly beaten
1/4 cup grated onion
Vegetable oil
Preheat oven to 400 degrees F. Adjust a rack to the middle position and either oil or spray a 9-inch pie pan with nonstick spray.
Place raw potatoes in a colander over a large bowl or your sink. Salt potatoes and let set for 10 minutes. Squeeze out the excess water.

In a medium bowl, combine grated grated potatoes, egg white, and onion; mix well. With lightly-floured fingers, pat potato mixture into prepared pie pan, building up the sides of the crust.
Bake 30 to 40 minutes or until golden brown (after the first 20 minutes brush the crust with vegetable oil to crisped it). Remove from oven. Reduce oven temperature to 375 degrees F.
https://whatscookingamerica.net/Vegetables/CauliflowerPie.htm
---
Broccoli-Cheese Pie with Potato Crust
The wonderful smell of the potato crust as it bakes will set your taste buds alive.  That is just the beginning – this whole pie is absolutely fantastic!
Spinach Torta with Potato Crust
Another great recipe using the fantastic potato crust.  The smell, as the Spinach Torte bakes, will drive you crazy with desire!
Idaho Potato Crusted Pizza

A wonderful light meal.  Great way to use the fresh produce from your garden or from your local Farmer's Market.
Tortilla Espanola – Spanish Omelet
The Spanish omelets is, without a doubt, Spain's most commonly served dish.  It is a favorite appetizer served in Spanish cafes and bars.  It can also be eaten at breakfast or as a light supper.
Comments and Reviews