Categories:
Chips, Crisps and Crackers
Potato Appetizers
Potatoes
Microwave Potato Chips are a tasty and easy alternative to store-bought potato chips.  You do not need a deep fryer to make crispy homemade potato chips – you can use your microwave!  Who knew making homemade potato chips could be so easy?
Use non-stick cooking spray and make these delicious Microwave Potato Chips low calorie and non-fat that are so much healthier for you and your family.  Children love these homemade potato chips.
Find out about Potato Hints, Tips, and Information, Sweet Potato Tips or History of Potatoes.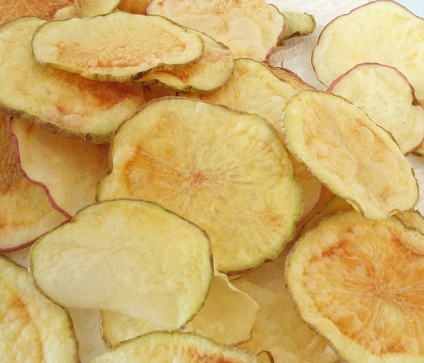 Microwave Potato Chips Recipe:
Microwave Potato Chips Recipe
Ingredients:
4 medium potatoes (Idaho, russet, yellow gold, or red potatoes)
Vegetable oil or non-stick cooking spray
Herbs, your choice (granulated garlic powder, seasoning salt, chili or cayenne pepper, dried dill weed, Old Bay Seasoning, etc.)
* If the potatoes are old, peel and slice thin, approximately 1/16-inch thick. If the potatoes are new potatoes or have good skins, do not peel, just scrub well and then slice approximately 1/16-inch thick.
Instructions:
Scrub and peel the potatoes. Using a mandoline or a thin, sharp knife, slicing potatoes approximately 1/16-inch-thick.
To remove potato starch, rinse the slices in a bowl of cold water; change the water twice. Pat the slices thoroughly dry with paper towels.
Sprinkle sliced potatoes with your choice of spices or herbs or just leave them plain.
If you have a microwave bacon tray, lightly rub the tray with vegetable oil or cooking spray. Place the sliced potatoes flat on the tray in a single layer. If you do not have a bacon tray, use a microwave-safe casserole dish. Rub the inside of the dish with some olive oil or spray with non-stick cooking spray.
Cover with a microwaveable, round heavy plastic cover. Microwave on HIGH for 4 minutes; turn slices over and continue to microwave on high another 3 to 5 minutes. Potatoes are done when they are lightly browned (if they are not browned, they will not get crisp). Cooking time could vary slightly, depending on the wattage of your microwave and the thickness of the chips.
Recipe makes 4 servings.
Each Serving = .1 fat grams, 110 calories, 2 WW points
https://whatscookingamerica.net/Vegetables/MicrowavePotatoChips.htm
Comments and Reviews