Oven Fried Zucchini Fries can be served hot as a side dish or at room temperature as a hors d'oeuvre.  Cut the squash in sticks, rounds, strings or fries and add your favorite spice, like chili powder, oregano or dill.  Be creative and do not be shy when you try this great Oven Fried Zucchini Fries recipe.  Good news, you can apply this to other summer squash.
Did you plant one or two squash plants in your garden this last spring?  If you are like me you probably planted a few different varieties and have a plethora of summer and winter squash vines crawling across the yard.  The most prolific squash I come across is zucchini.  Whether it is in your own garden or if your co-workers and neighbors are sharing the wealth there are ways to cook and enjoy squash.
One of my favorite is this recipe is Oven-Fried Parmesan Zucchini from the cookbook Squash – A Country Garden Cookbook by Regina Schrambling.  Zucchini squash is traditionally fried in a hot skillet in lots of oil, which can leave it soggy.  Try oven frying instead; the result is crunchy, savory and healthy.  This summer squash recipe has a delicious Parmesan crust giving the zucchini a whole new twist.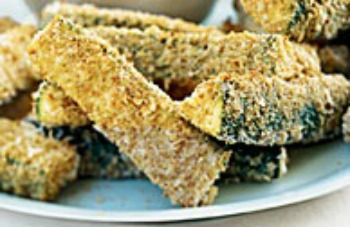 Learn about Squash Hints, Tips, and Information.
Oven Fried Parmesan Zucchini Fries Recipe:
Oven Fried Parmesan Zucchini Fries Recipe
Ingredients:
1 tablespoon extra-virgin olive oil
1/4 cup fine bread crumbs
1/3 cup grated Parmesan Cheese (Parmigiano-Reggiano)
1/2 teaspoon dried rosemary, crumbled
2 to 3 dashed cayenne pepper
1/2 teaspoon salt
1/4 teaspoon freshly-ground black pepper
1 large egg
4 small green or golden zucchini squash
Instructions:
Preheat the oven to 400 degrees F. Lightly grease a heavy baking sheet with the olive oil and set aside.
In a shallow dish, combine the bread crumbs, Parmesan cheese, rosemary, cayenne, salt and pepper, and mix well; set aside
In a second shallow dish, lightly beat the egg; set aside.
Trim the ends of the squash. Cut each squash in half lengthwise. Lay the halves flat and cut in half lengthwise again. Then cut the strips in half crosswise.
Dredge each zucchini piece first in the beaten egg and then in the Parmesan mixture, coating evenly. Arrange in a single layer on the prepared baking sheet (leaving space between each prepared zucchini piece).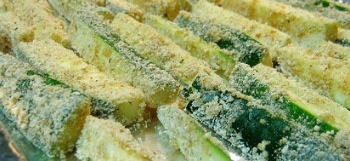 Bake in the oven for 5 to 7 minutes, then turn the squash over and bake 5 to 7 minutes longer, or until crisp and lightly browned.
Serve hot or at room temperature.
Makes 4 servings.
https://whatscookingamerica.net/Vegetables/OvenFriedZucchini.htm
Comments and Reviews