Hawaiian Hurricane Popcorn Recipe and History
Hawaiian Hurricane Popcorn, also known as Nori Popcorn, is a popular and addictive snack from Hawaii.  The main ingredients are popcorn, melted butter, Nori (dry roasted seaweed flakes), sesame seeds, and Japanese rice crackers (also known as mochi crunch) all tossed together.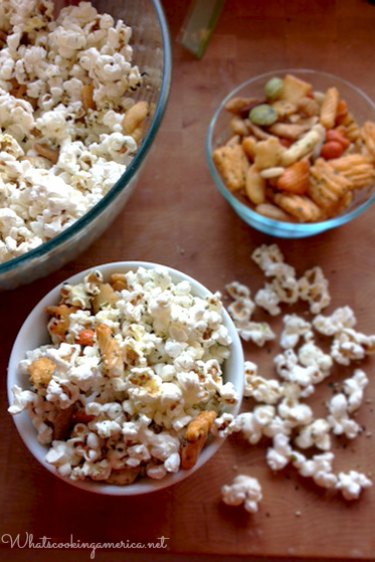 Hurricane popcorn is what is known as "Hapa food" to Hawaiian islanders.  Hapa is a Hawaiian term that refers to being of mixed Asian and Caucasian descent or heritage.  In terms of Hapa food, it would be "the perfect harmony between Asian and Caucasian cultures."  This perfect fusion results in a delicious salty and crunchy snack mix.  You can also make the popcorn spicy depending on the type of rice crackers added.
Nori and sesame seeds can be purchased in a seasoning mix known as furikake which also includes salt and sugar.  Besides sprinkling on popcorn, furikake is excellent to jazz up plain white rice, vegetables, fish, and eggs.  You can purchase furikake and Japanese rice crackers in Asian specialty markets.  Furikake is also becoming more common to find in the Asian section of the local supermarket.
History of Hawaiian Hurricane Popcorn: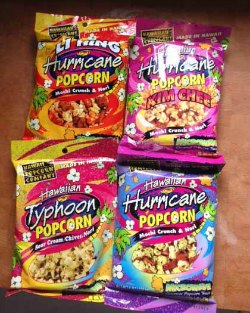 1991 – The Hawaii Hurricane Company was the first to introduce Hurricane Popcorn.  They started by selling their popcorn mix from a little pushcart in Kaneohe on the Hawaiian island of Oahu.  This new Asian fusion popcorn snack quickly grew in popularity and became an instant hit for the island locals with their deep love of dried seaweed and Japanese rice cracker snacks.  Eventually, the company starting selling microwave popcorn kits for families to make their own Hurricane popcorn at home which was comprised of a Microwave popcorn bag, butter flavoring packet, and another packet of Nori and sesame seed seasoning.  They also sell ready-to-eat Hurricane popcorn mix and pre-mixed popcorn toppings to add to plain buttered popcorn at home.
Many movie theatres in Hawaii also sell Hurricane popcorn.  Some people are known to even bring in their own Hurricane seasoning to add to their movie popcorn.
Learn more about the History of Popcorn.
Find more Appetizer and Snack recipes
Hawaiian Hurricane Popcorn Recipe:
Keyword:
Hawaiian Hurricane Popcorn Recipe
Ingredients
Hawaiian Hurricane Popcorn:
13

cups of

popcorn,

already popped*

2 to 3

tablespoons

butter

1/2

teaspoon

soy sauce

2 to 3

tablespoons

Nori Furikake

(if unable to purchase Nori Furikake mix, you can make your own, see below)

1 to 2

cups

Japanese rice crackers

(also known as arare or mochi crunch)

Furikake Seasoning Mix:
Instructions
Hawaiian Hurrican Popcorn Instructions:
In a large bowl, pour in the popcorn that has already been popped.

Place butter in microwave safe dish and microwave for 20 to 25 seconds or until the butter is melted. Alternatively you can add butter in a small saucepan over medium heat for a couple minutes or until butter is melted. Then remove from heat. Add the soy sauce to the melted butter and stir together.

Next add the Nori Furikake mix and Japanese rice crackers to the bowl of popcorn. Toss together to combine. Finally pour the butter over the top of the popcorn mixture and gently toss the popcorn until the butter is evenly combined.

Another option for mixing all the ingredients is to add into a large brown paper grocery sack or extra-large reseal able plastic bag. Close up the bag and shake well until all the ingredients are combined. Pour back into a large bowl and enjoy!
Furikake Instructions:
Toast sesame seeds in skillet over medium heat for a couple minutes and remove from heat. Chop Nori seaweed sheets into small pieces.  In a small bowl, mix together sesame seeds, bonito flakes, nori seaweed, salt, and sugar.  Can be stored in sealed jar in cool, dry place for up to two months.
Recipe Notes
* Remember to remove any un-popped popcorn kernels.
References:
Hawaii Hurricane Company
Hapa Japanese Cuisine, https://www.hapaok.com/
Comments and Reviews