Artichoke and Goat Cheese Bruschetta Recipe is the perfect appetizer to make to serve at your next party or gathering.  Plus it is a yummy recipe for dinner parties. This artichoke and goat cheese bruschetta recipe is an inventive spin on the classic Italian tomato and basil brushetta recipe.  A bruschetta recipe is one of the simplest appetizers in the world to make.  A very popular and a crowd pleaser when served at any occasion, plus a delicious appetizer to serve your vegetarian friends and family.
This bruschetta appetizer is usually served as a snack before dinner.  The prep work takes less than 20 minutes from start to finish.  As preparing fresh artichokes is usually a time consuming job, the use of bottled marinated artichokes in the recipe, takes all the work out of preparation.  The toasted bread in the bruschetta acts as a built-in plate, making them easy eating for party guests.  You can throw this appetizer together just minutes before your guests arrive and no one will know!  It is also very easy to double this great recipe for a crowd.
How much more easy can this bruschetta recipe be?  Even a child can prepare this appetizer.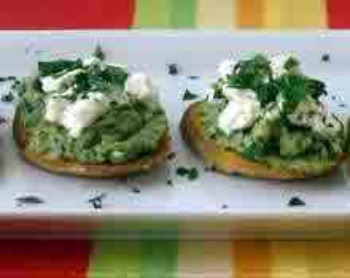 Artichoke and Goat Cheese Bruschetta Recipe:
Keyword:
Artichoke and Goat Cheese Bruschetta Recipe
Ingredients
18

(1/4-inch thick)

baguette bread

slices, cut on the diagonal

Olive oil,

extra-virgin

2

(6 to 6 1/2 ounce) jars

artichoke hearts,

marinated

1/2

cup plus 2 tablespoons flat-leaf

parsley,

divided

1/2

cup

Parmesan Cheese

(Parmigiano-Reggiano), grated

Black pepper,

freshly ground

6

ounces creamy

goat cheese, 

crumbled
Instructions
Preheat oven to 375 degrees F.

Brush baguette bread slices on both sides with olive oil and place them on a baking sheet. Bake slices until just crisp, about 3 minutes a side. Remove from oven and leave on baking sheet. (Bread can be toasted 3 hours ahead; cover loosely with foil and leave at room temperature.)

Drain artichokes, reserving about 2 tablespoons of the oil they were packed in, and place them in a food processor fitted with a metal blade. Add reserved 2 tablespoons artichoke oil, 1/2 cup of the parsley, Parmesan cheese, and several grindings of black pepper. Process, pulsing machine, until mixture is a coarse puree. (Puree can be prepared 3 hours ahead; cover and leave at cool room temperature.)

When ready to serve, spread each bread slice with a mound of artichoke puree and top with some crumbled goat cheese. (Bruschetta can be assembled 1 hour ahead; leave uncovered, at room temperature.)

When ready to eat, bake until cheese is melted and bruschetta are warm, approximately 5 to 6 minutes. Sprinkle bruschetta with black pepper and some of the remaining parsley. Serve warm on a platter.
Comments and Reviews