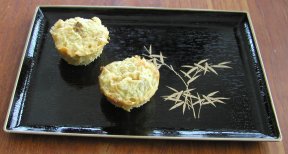 Miniature Artichoke Tarts – It is said that good things come in little packages and this is true of these miniature tarts. This recipe proves that good-for-you things come in tasty little packages! These tarts are an easy make-ahead or last minute appetizer, and especially great when preparing for a large party.  The tarts were perfect little bites for any party.
You do not have to wait for a party to enjoy the miniature artichoke tarts, make them to have around for just relaxing at home before dinner or when you want something special with an evening glass of wine.  These artichoke tarts also make a great breakfast entree when planning a holiday brunch.  You can also treat yourself to an easy work breakfast of snack.  All you need to do is re-warm them in the microwave and enjoy at your desk with a cup of coffee or tea.
This recipe is another great way to enjoy artichokes, as they are good for you.  Did you know that one artichoke has one quarter of an adult`s daily fiber, is high in important nutrients such as vitamin C, potassium, folic acid and magnesium.
Miniature Artichoke Tarts Recipe:
Servings
:
12
to 16 servings
Instructions
Preheat oven to 325 degrees F. Drain the artichokes, reserving 1/3 cup of the marinade. Chop artichokes into small pieces; set aside.

In small saucepan over medium heat, heat reserved marinade. Add onion and garlic; cook approximately 5 minutes or until softened and liquid is absorbed (don't let the garlic brown).

In large bowl, beat eggs; stir in onion mixture, bread crumbs, salt, pepper, oregano, and hot pepper sauce. Blend in cheddar cheese; stir in artichoke pieces.

Spoon mixture into a well-greased non-stick small tart pans or mini muffin pans. NOTE: The tarts can be hard to remove from the tins if not well-greased (even in non-stick tins).

Bake for approximately 15 to 20 minutes or until set. Remove from oven and let cool on a wire rack before removing from the pans.

Refrigerate until ready to serve. Let come to room temperature before serving.
Comments and Reviews