Fromage Fort Cheese Spread is the perfect solution on what to do with all those little leftover pieces of cheese!  
An easy solution is to blend them all together to make this unique Fromage Fort Cheese Spread.  You can clean out the cheese compartment of your refrigerator and at the same time create something wonderful to eat!  The little end pieces of Brie, cheddar, farmer cheese, chevre, roquefort, Mozzarella, and scores of other cheeses can be quickly transformed into a tasty mixture which the French call Fromage Fort (meaning strong cheese).
This cheese spread turns out different every time you make it because you always use different cheeses.  Try to balance the types of cheese you use.  For example, do not use more than one especially salty cheese, as it will make the mixture too salty.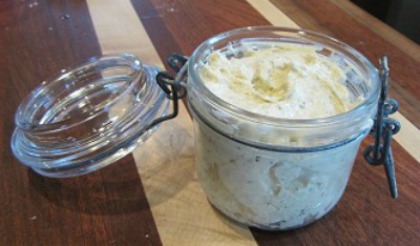 Fromage Fort Cheese Spread Recipe:
Keyword:
Fromage Fort Cheese Spread Recipe
Servings
:
10
to 12 servings
Ingredients
1

pound

assorted leftover cheeses,

at room temperature (Cheddar, Parmesan, Provolone, Fontina, Brie, goat cheese, mozzarella, chre, Roquefort, etc.)*

1/4

cup

white wine

1/2

cup (1 stick or cube)

butter,

unsalted, softened

2

tablespoons

fresh herbs

(such as thyme, sage, flat-leaf parsley, tarragon, marjoram, or basil), optional

1

clove

garlic

or more to taste

1

teaspoon

black pepper,

freshly-ground
Instructions
Remove the rind, hard spots, and any mold from the cheese. Cut the cheese into 1/2-inch cubes, and grate any hard cheeses. Weight your total chesses so you know how much other ingredients to add. Remember, you want a total 1 pound of cheeses.

Place the room temperature cheeses in a food processor (I used my Vitamix), and process 20 to 30 seconds or slightly smooth. Add wine, butter, herbs, garlic, and black pepper; blend until very smooth, creamy, and spreading consistency, approximately 3 to 5 minutes. Depending on your choice of cheeses and their moisture level you may need more or less white wine.

Remove the mixture from processor and transfer it to a crock, ramekin, or bowl. Cover tightly with plastic wrap and refrigerate.

Serve immediately or refrigerate for at least 1 hour if you would like a firmer consistency. Best served at room temperature.

Store, covered, in the refrigerator. In the refrigerator, it will thicken and age a little; the flavors will mingle and deepen. Stored in the refrigerator, it will last 1 to 2 weeks. Fromage Fort also freezes well.

Serve with your favorite rustic bread, crackers, and/or slices of olive oil-brushed baguette. Serve with your favorite wine and enjoy!

Makes about 2 1/2 cups, serving 10 to 12.
Recipe Notes
*  Harder cheeses grated, softer ones cut into chunks.  Three (3) types of cheese is enough - 6 or 7 types will be even better.
*  If you use a really strong blue cheese or gorgonzola, it can easily become the dominant flavor in your combination (just a little bit of these cheeses).  Make sure that you use a combination that is not too salty.
Comments and Reviews