Goat Cheese and Balsamic-Honey Crostini will become your new go to recipe to serve for your next occasion with family and friends.  The combination of flavors in this Goat Cheese and Balsamic-Honey Crostini is so outstanding and delicious.  These crostini is so good and so easy to make!
Balsamic Vinegar:  There is a lot of confusion about balsamic vinegar.  You will find lots of balsamic vinegars in your local stores.  Some are worth their high price and others are not.  Often, the less expensive ones may suit your needs just fine.  While there is really only one "True" balsamic vinegar, there are actually three types of balsamic vinegars that you will encounter on your next shopping experience.  Determine which type of balsamic vinegar is for you to use in your cooking and different recipes.
Goat Cheese:  Goat cheese (Chevre cheese) can be found in many varieties, packed in various shapes and sizes, and varying in texture and taste.  Fresh goat cheese should look moist.  Reject if air-bloated, moldy, or leaking whey.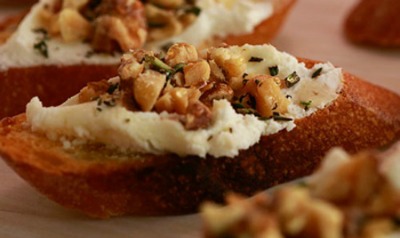 Goat Cheese and Balsamic-Honey Crostini Recipe:
Keyword:
Goat Cheese and Balsamic-Honey Crostini Recipe
Ingredients
1/2

cup

honey

1/3

cup

water

Few

sprigs of

favorite herbs

(such as sage, basil, rosemary, thyme)

3 1/2

tablespoons good-quality

balsamic vinegar

6 to 8

ounces young

goat cheese,

fresh

12

slices baguette-type

French bread,

cut diagonally about 1/2-inch thick, toasted

Walnuts,

finely-chopped (optional)
Instructions
In a small sauce pan over medium-high heat, combine honey and water; bring to a boil. Add herb sprigs and reduce heat to a simmer. Let simmer for approximately 10 minutes until total amount of liquid is reduced to about 1/2 cup. Remove from heat. Remove and discard herbs.

Stir in balsamic vinegar and let cool.

Spread goat cheese thickly on toasted bread. Drizzle with balsamic-honey syrup and sprinkle with optional walnuts and serve.


Source:  Goat Cheese and Balsamic-Honey Crostini appetizer recipe adapted from the cookbook "The Wine Sense Diet" by Annette Shafer.  Photo of goat cheese crostini from Rachel Ray.
Comments and Reviews