Move over spinach dip – Cheesy Kale and Bacon Dip is the new party dip in town!  The cheese and bacon flavors in this dip are sure to win over your party guests.  This Cheesy Kale and Bacon Dip will especially please a sports watching crowd.  Your guests will not even realize that they are also enjoying some healthy super-food kale that is mixed in.  I introduced this dip at a couple's gatherings to rave reviews and several recipe requests.
Did you know that kale is one of the healthiest vegetables on the planet?  It is considered a "superstar" vegetable.  Kale chips are all natural, homemade, low fat, low calorie, and have are gluten free.  Kale is rich in chlorophyll and provides much needed fiber so lacking in the daily diet of processed food eating Americans.  Read about the health benefits of Kale.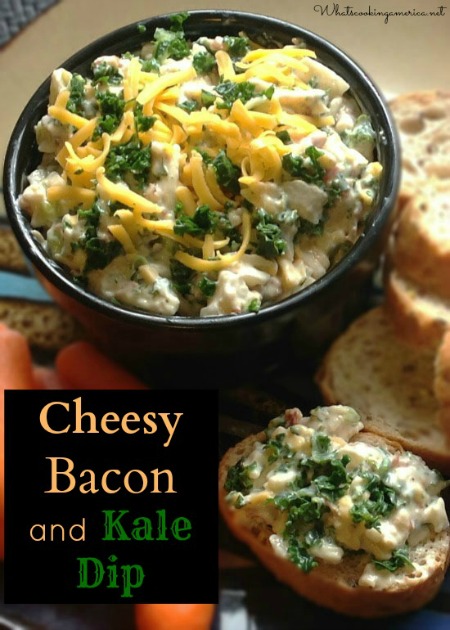 Cheesy Kale and Bacon Dip Recipe:
Keyword:
Cheesy Kale and Bacon Dip Recipe
Servings
:
1
large cheese ball or approximately 1 1/2 cups spread
Ingredients
2

cups (8 ounces)

Cheddar cheese, 

shredded and divided

5 to 6

green onions,

chopped

1

(3-ounce) package of real

bacon bits*

1

(8-ounce) can

water chestnuts,

drained and diced

1

(1.4-ounce) packet of

Knorr Vegetable Mix

1

cup

mayonnaise

1

cup

sour cream

1

large bunch

Kale

(curly or Italian)**

1/2

cup

water
Instructions
In a large bowl, mix together 1 3/4 cups shredded cheese, chopped green onions, bacon bits, water chestnuts, Knorr Vegetable Mix, mayonnaise, and sour cream. Cover and place in refrigerator while preparing the kale.

Preparing Kale leaves: Wash the kale leaves thoroughly. To de-stem the kale leaves, place leaves on a cutting board. Fold each kale leaf in half, cut along the stem, and then pull out the stem. Either discard the stems or place in a freezer bag and freeze to use later in your soup stocks. Tear the kale leaves into large pieces.

In medium-size sauce pan over medium-high heat, add 1/2 cup of water. Place the prepared kale pieces in the pot and cover with a lid to steam. After a couple minutes, remove lid and stir kale so fresh leaves are rotated to the bottom of the sauce pot; cover with lid again. Check again and stir after a couple additional minutes have passed. Cook until all the Kale is cooked, but do not overcook to avoid having kale leaves shrivel up too much. Remove from heat and drain off liquid (place kale in sieve to squeeze all the liquid out).

Place the drained kale on a cutting board and finely chop. Set aside 2 tablespoons of chopped kale for garnish later.

Remove the prepared cheese dip from the refrigerator. Mix chopped kale (all but the reserved 2 tablespoons) into the prepared cheese dip. Cover bowl and place back in refrigerator for 2 hours to overnight. The longer the flavors have to meld, the better.

When ready to serve, remove the prepared Cheesy Kale and Bacon Dip from refrigerator and place in nice serving bowl. Garnish the top with the remaining 1/4 shredded cheddar cheese and the 2 tablespoons of kale that was set aside earlier for a nice presentation. Enjoy!

Serve with crackers, baguette bread, tortilla chips, sliced carrots, celery, or cucumbers.

Makes 1 large cheese ball or approximately 1 1/2 cups spread.
Recipe Notes
* 12 thin bacon strips, cooked according to package directions and crumbled, will equal 3 ounces of packaged bacon bits,
** Kale is a leafy green vegetable that belongs to the Brassica family, a group of vegetables including cabbage, collards, and Brussels sprouts.  Kale comes in two forms: kale which has smooth leaves, and curly kale which has crinkly leaves.  When purchasing curly-leaf kale, select the heads of kale on the smaller side, as they will be more tender.  The leaves should be crisp, with a bright color.  Although fresh kale can be found in markets throughout the year, it is in season from the middle of winter through the beginning of spring when it has a sweeter taste and is more widely available.
Comments and Reviews