Lobster Cakes with Papaya Mayonnaise recipe can be served as an appetizer or an entree.  The lobster meat shines in these wonderful Lobster Cakes.  Serve these with Papaya Mayonnaise at your next dinner party.  The Papaya Mayonnaise is so good!  You can also use it as a dipping sauce for your favorite crab cakes, chicken strips, and also for fried shrimp.  Papaya Mayonnaise has so many uses – be creative!
You will need to refrigerate them at least 3 hours or overnight, so plan ahead of time accordingly.  Unlike many other lobster dishes, you will find that this one is relatively easy to prepare.
I adapted this recipe from Chef Gregory Cornelius of the Crescent Club in Memphis, Tennessee.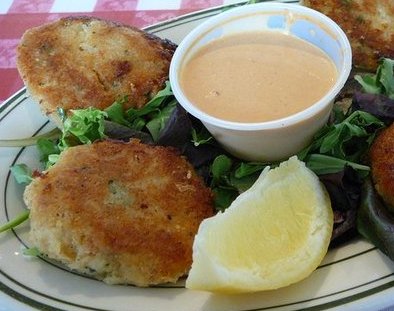 Lobster Cakes with Papaya Mayonnaise Recipe:
Keyword:
Lobster Cakes with Papaya Mayonnaise Recipe
Servings
:
16
small lobster patties
Ingredients
Lobster Cakes:
1

pound (approximately 2 cups)

lobster meat

(cooked, fresh, or frozen)

1 to 2

jalapeno chile peppers,

seeded and finely diced (or to taste)

1

red bell pepper,

seeded and diced

1

teaspoon

thyme

leaves

1/2

teaspoon

ground allspice

1/2

teaspoon

dry mustard

1

tablespoon

sugar,

granulated

1

large

egg

2

tablespoons

mayonnaise

2 1/2

cups

bread crumbs,

dry, unseasoned, divided*

4

tablespoons

butter
Instructions
Lobster Cakes with Papaya Mayonnaise Instructions:
Prepare Papaya Mayonnaise; chill in refrigerator until ready to serve.

In a food processor, pulse the lobster, jalape peppers, and red pepper just enough to break the lobster into small pieces. Transfer lobster mixture to a large bowl.

Add thyme, allspice, mustard, sugar, egg, mayonnaise, and 1⁄2 cup of bread crumbs, mixing well. Divide the mixture into 16 portions and form into small patties. Place onto a baking sheet lined wither with parchment or wax paper; cover with plastic wrap and refrigerator at least 3 hours or overnight (the cold will firm up the cakes so that they will not break up when fried).

Place remaining bread crumbs in a flat dish or shallow dish dish; lightly dredge chilled lobster patties in the crumbs.

In a large non-stick frying pan over medium heat, heat butter until hot but not smoking (add more butter if needed). Gently lay chilled lobster cakes onto bottom of the pan; fry 3 to minutes per side or until until golden brown on each side. Remove from heat and let drain on paper towels. NOTE: Lobster cakes will hold about an hour in a 200 degree F. oven.

Place 2 or 3 lobster patties onto individual serving plates and serve warm with Papaya Mayonnaise.

Makes 16 small lobster patties.
Papaya Mayonnaise Instructions:
Remove the papaya skin and seeds, and discard.

Use a food processor to puree the papaya and the juice of the lime until smooth. You should have approximately 1 cup of papaya puree.

Transfer to a small mixing bowl and add the sugar and mayonnaise. Stir until smooth.

Chill in refrigerator until ready to serve.
Comments and Reviews