Mango Black Bean Salsa recipe is a wonderful and taste salsa that also includes black beans. 
This flavorful and colorful mango salsa is also excellent with seafood, and fish.  It is most popular used as a chip dip, but this Mango Black Bean Salsa  recipe is also delicious used as a sauce on meats.  It is so good that I could eat a whole bowl myself.

Mangos are my favorite fruit.  I always seem to have some ripening in the kitchen.  Ripe mangoes will not be rock-solid, but rather, will give slightly when pressed with your fingers.  Do no purchase mangoes that are too mushy, or mangoes whose skin has begun to wrinkle, as these could be over-ripe.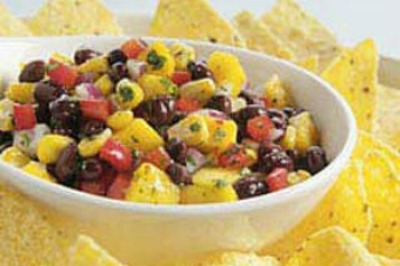 Mango Black Bean Salsa Recipe:
Keyword:
Mango Black Bean Salsa Recipe
Instructions
Grill the mango slices over direct medium heat for 5 minutes. Use a grilling basket or set the slices on a metal rack placed at 90 degrees to the grilling rack. Remove from grill, dice, and transfer to a mixing bowl.

Add the black beans, bell pepper, green onions, chile pepper, cilantro, and lime juice. Season with salt.

Cover and refrigerate until ready to serve.
Source:  Photo from Kraft Foods.
Comments and Reviews