This classic Italian Pomodori Al Forno Recipe is SO GOOD!  Roasted and marinated tomatoes are considered Italian comfort food and will literally melt in your mouth.  
This Pomodori Al Forno Recipe teaches you how to easy it is to roast tomatoes with olive oil and herbs until their flavors are deepl concentrated.  As the tomatoes cook, their color deepens to a dark crimson color.  The tomato flavor gets more and more concentrated and more and more delicious as they roast in the oven.  The roasted tomatoes are then marinated in additional olive oil, garlic, and more herbs until they become truly glorious and wonderful to eat.
The marinated tomatoes are then placed on some toasty baguette slices with a bit of goat cheese to serve as bruschettas.  You now have bruschetta appetizers fit for any and everyone!  Pomodori Al Forno Recipe roasted tomatoes can also be tossed into your favorite pasta dish.
Also check out how to make Oven-Roasted Fresh Tomato Sauce and Oven-Roasted Canned Tomatoes.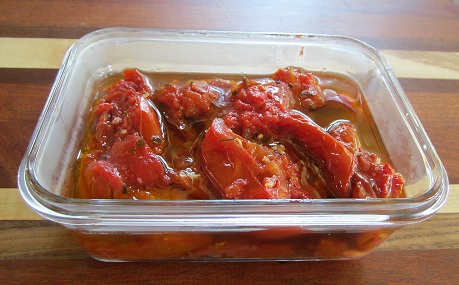 Oven Bake Tomatoes Recipe - Pomodori Al Forno:
Keyword:
Oven Bake Tomatoes Recipe, Pomodori Al Forno Recipe
Ingredients
1

cup (or more)

olive oil,

extra-virgin, divided

2

pounds ripe

plum tomatoes,

halved lengthwise and seeded*

1 1/2

teaspoons

oregano,

dried

3/4 to 1

teaspoon

sugar,

granulated

1/2

teaspoon

salt

3 to 4

cloves

garlic,

minced

1

tablespoon

Italian parsley

or basil leaves (your choice), freshly minced

Goat cheese,

aged (optional)

1

baguette,

thinly sliced crosswise, toasted
Instructions
Preheat oven to 250 degrees F.

Pour 1/2 cup olive oil into a 13x9x2-inch glass or ceramic baking dish.

Arrange the tomatoes in the prepared baking dish, cut side up. Drizzle with the remaining 1/2 cup olive oil. Sprinkle with oregano, sugar, and salt

Bake 1 hour. Using tongs, turn tomatoes over and then bake an additional 1 hour. Using tongs, turn tomatoes over again and continuing baking until the tomatoes are a deep red and very tender (time will vary depending on the size and ripeness of the tomatoes), approximately 15 to 45 minutes longer.

Remove from oven and layer tomatoes in a medium-size bowl, sprinkling minced garlic and parsley over each layer; reserve the oil in the baking dish. Drizzle the reserved oil over the tomatoes (adding more, if necessary, to completely cover the tomatoes. Let the tomatoes stand at room temperature for 2 hours. To do ahead of time, cover and refrigerate up to 5 days. Bring to room temperature before serving.

Slice the bread into 1-inch slices. If you are working with a large loaf, you will then want to halve each slice again. Place the slices on a cooking sheet, and toast them in the oven until golden brown. Watch carefully and do not let burn. NOTE: These can be made ahead of time and stored in an airtight container. Be sure to let cool completely before storing.

Either serve this tomato mixture at room temperature in a bowl with a spoon and lots of toasted bread slices and goat cheese, or top each toasted bread slice with a tomato and some goat cheese, and then place on a large serving plate. Try not to top too far ahead of serving, as the bread can get soggy.
Recipe Notes
* I have also used a variety of different tomatoes that I had in my garden. This will produce more juice that will probably need to be drained off.
If you are making this dish outside of the height of tomato season, use only best-quality canned whole plum tomatoes.  Two (2) pounds fresh plum tomatoes (10 to 12 tomatoes) = one (1) 28-ounce can of whole plum tomatoes.
Sources:  I slightly adapted this recipe from Cafe Lago restaurant in Seattle, Washington.  Recipe appeared in the
Bon Appetit magazine

, September 2008. The appetizer as been called  "The best appetizer in Seattle."
Comments and Reviews