What could be easier than grilling the shrimp for this tasty Grilled Prosciutto-Wrapped Shrimp appetizer?  Your family and friends will love shrimp grilled this way.
So easy and simple to make and so delicious.  They are wonderful for entertaining since they can be prepared in advance and then simply grilled a couple minutes before serving.  Wrapping the shrimp in prosciutto, a delicious Italian ham, gives them a wonderful smoky flavor.  The juices from the prosciutto seep into the shrimp to give a wonderful taste!
This recipe is somewhat similar to the oyster appetizer called Angels on Horseback – only made using shrimp instead of oysters.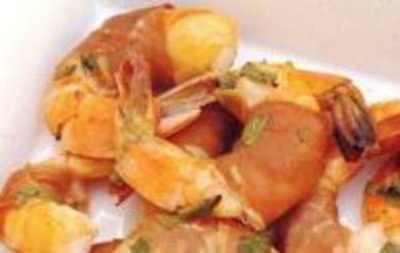 Grilled Prosciutto-Wrapped Shrimp Recipe:
Keyword:
Grilled Prosciutto-Wrapped Shrimp Recipe
Ingredients
24

jumbo

shrimp,

uncooked

6

tablespoons

olive oil,

extra-virgin

4

tablespoons

rosemary

leaves, freshly-chopped

2

tablespoons

garlic

cloves, sliced

1/2

teaspoons

red pepper flakes,

crushed

2

teaspoons

lemon zest,

freshly-grated

Salt and pepper

12

slices (about 4 ounces) paper-thin

Prosciutto di Parma,

cut in half crosswise

Lemon

wedges

Rosemary

sprigs
Instructions
Peel and devein the shrimp, leaving tails on.

In a large bowl or large re-sealable plastic bag, combine olive oil, rosemary, garlic, red pepper, lemon zest, salt, and pepper. Add the prepared shrimp and toss to coats. Let marinade for approximately 1 hour (no more).

Preheat barbecue grill (oil hot grill to help prevent sticking).

When ready to grill, remove the shrimp from the marinade and tightly wrap each with a slice of prosciutto (because the prosciutto is thin, it will stay wrapped).

Place shrimp onto hot grill and cook approximately 2 to 3 minutes on one side; turn and cook another 2 to 3 minutes or until shrimp are opaque in center (cut to test). Remove from grill.

To serve, arrange warm shrimp on a large serving platter with lemon wedges and rosemary sprigs.
Comments and Reviews