Salsa recipes can vary from person, from state, and from countries. Some contain fresh tomatoes and some contain canned tomatoes.  It your choice and preference!
Rick says, "I should sell my Rick's (soon to be famous) Salsa Recipe and make a little extra money.  I know I could because this recipe gets rave reviews every time I bring it to work!  But I know I never will, so I guess I will go ahead and share the recipe with all of you.  I can not take complete credit for this salsa recipe because I got the basic idea from my wife's aunt a few years ago.  Thank you Debbie!"
Recipe and photos courtesy of Rick Rigler of Houston, TX.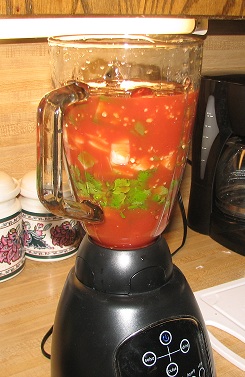 Rick's (soon to be famous) Salsa Recipe:
Instructions
In a large pot over medium-high heat, add chile peppers and enough water to cover them. Bring just to a boil; reduce heat to medium and let the chile peppers simmer several minutes until they soften up. Remove from heat, drain and remove cooked chile peppers from the water, set aside and let cool.

I use fresh peppers and boil them to get them a little soft and mellowed somewhat. Roasting or smoking the peppers will develop better flavor, of course. I started making the (basic) recipe with one (1) jalapeno and three (3) Serrano chile peppers. Do not ask why, it just works! Different peppers will, of course, give different flavor and results.

Lately, I have started doubling the basic recipe, mainly because my daughter, Allison, loves it so much and it makes an easy, not very fattening after-school snack. I also usually bring some to work to share. The last time I prepared my salsa, I made four times the usual amount. The serrano chile peppers were much larger than usual, so it was hard to judge how many to use. I ened up using ten (trying to judge for the larger size), and the salsa came out much hotter than usual. Edible, of course, but too hot for timid folks.

Coarsely chop the onions, garlic, and cooled chile peppers. Pull the cilantro leaves from the stalks (discarding the stalks).

Into the bowl of your blender or food processor, add the chopped onion, garlic, chile peppers, cilantro leaves, salt, and cumin. Drain the tomato juice from two (2) cans of tomatoes into your blender. NOTE: You will need enough of the canned tomato juice to cover the vegetables being added and create a semi-thick slurry - but not too runny when done. The consistency of the salsa is to your preference - so adjust to your tastes. Add the third can of tomato juice as necessary to fill the blender near the top. Blend the ingredients well. After blending, pour the mixture into a large pot.

Into the now empty blender or food processor, add the drained tomatoes; pulse on and off quickly to loosely chop the tomatoes, depending on the size of chunks desired. This usually takes one 3 or 4 pulses. Add the chopped tomatoes to the pot with the vegetables. Stir to thoroughly to mix together all the salsa ingredients.


Over low heat, slowly simmer the pot of salsa ingredients for approximately 1 hour, stirring occasionally (longer simmering will develop better flavor).

Salsa may be served either hot or cooled with corn chips, tortillas, tacos, burritos, tostadas, etc., or let cool and serve.

To store the salsa, let it cool and then pour into jars and store in the refrigerator. This tomato salsa will keep in the "fridge" several days. NOTE: I have kept it much longer than a week before and it still tastes fine. Probably, the best way to store it is in a glass jar. I usually use a canning jar with a lid.
Recipe Notes
*  I use canned tomatoes because it is easy and it helps keep the salsa fresher longer.  I usually end up using all the tomato juice from all three (3) cans when making the salsa.
**  How hot you make your salsa depends on the kind of chilies and the amount you use.
Comments and Reviews