Smoked Salmon Sushi Squares are a fun and easy twist on sushi.  
Many people have never made sushi or have trouble making the rolls.  Maybe you have to make a lot at one time.  This recipe will put you at ease with the process and you will find yourself making sushi more often. To prepare the Smoked Salmon Sushi Squares, everything is layered in a baking pan, and then the pan is inverted onto a platter.  All you do is slice the squares with a sharp knife and you are done!  It couldn't be easier.  You can substitute any sushi filling that you desire for a variety at a dinner party or appetizer buffet.  Give it a try!
Please check out Linda's California Rolls – American-Style Sushi Rolls.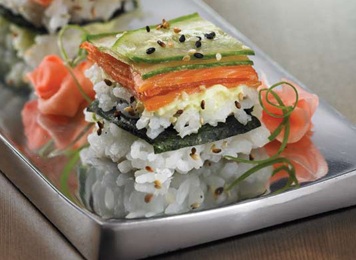 Smoked Salmon Sushi Squares Recipe:
Keyword:
Smoked Salmon Sushi Squares Recipe
Servings
:
16
sushi squares
Ingredients
Smoked Salmon Sushi Squares:
1

tablespoon

mayonnaise,

light

1/2

teaspoon

Wasabi

(Japanese horseradish)

16

thin slices of

English cucumber,

unpeeled

4

ounces

Smoked Salmon,

thinly-sliced

1

sheet

Roasted Seaweed

(Nori)

1

teaspoon

sesame seeds,

toasted

Soy sauce

(low sodium)

Wasabi

(optional)

Pickled ginger

(optional)
Instructions
Smoked Salmon Sushi Squares Instructions:
Prepare Sushi Rice (see recipe below)

Line an 8-inch square baking dish with plastic wrap (spread over the bottom and sides of the dish and let overhand to help remove the sushi later); set aside.

In a small bowl, combine the mayonnaise and 1/2 teaspoon wasabi; set aside.

Cover the bottom of the prepared baking dish with the cucumber slices. Lay the smoked salmon slices over the top. Spread the mayonnaise/wasabi mixture over the salmon. Place 1/2 of the prepared sushi rice over the top of the mayonnaise, pressing firmly to make an even thickness (dipping your fingers in water to prevent the rice from sticking to your hands).

Top with the nori sheet (cutting to fit if necessary). Add the remaining prepared sushi rice, patting it firmly to an even thickness. Invert onto a serving platter and, using a very sharp knife, cut into 16 squares. NOTE: Wipe your knife after each cut and dip into cold water. Sprinkle the top with sesame seeds.

Serve immediately or cover tightly with plastic wrap and refrigerate for 1 to 2 hours.

Serve at room temperature and garnish with soy sauce, wasabi, and/or pickled ginger if desired.
Sushi Rice Instructions:
In a small saucepan over medium heat, combine rice vinegar, sugar, and salt. Heat mixture just until the sugar dissolves (do not let it boil). Remove from heat and let cool until ready to use.

In a large heavy saucepan over medium-high heat, combine the rice and water; bring just to a boil, reduce heat to low and simmer, covered, for 15 minutes. Turn off heat and let rice rest, covered, for 15 additional minutes. When rice is done cooking and resting, transfer to a large bowl; loosen rice grains gently with a rubber spatula or wooden spoon by cutting and folding (do not stir, as this will crush the rice). NOTE: Either use the rice soon after preparing it, or cover it with a damp cloth to keep it moist. Do not refrigerate the cooked rice.

Sprinkle the cooled rice vinegar mixture over the rice, mixing together as you sprinkle (add enough dressing to coat the rice but not make it damp - you may not need to use all the vinegar dressing). Spread the hot rice on top of a large sheet of aluminum foil and let cool.
Recipe Notes
* Only use Japanese medium-grain sushi rice in sushi making.  It is a medium-grained rice and gets sticky when it is cooked.  Long-grained American rice will not work because it is drier and does not stick together.
Variation Ideas:
Boston Rolls - Scallions, crab, and salmon
Egg Salad Rolls - Hard-boiled eggs, mayonnaise, green onion strips
Holiday Rolls - Cranberry salsa, turkey strips, cream cheese strips
New York Rolls - Sliced apple, sliced avocado, smoked salmon
Pesto Rolls - Pesto, turkey or chicken strips, cream cheese strips
Philadelphia Rolls - Smoked salmon, cucumber, cream cheese strips
Melon Rolls - Prosciutto slices, melon strips
Shrimp Rolls - Shrimp, cream cheese strips
Tuna Salad Rolls - Tuna salad, sliced tomatoes, lettuce leaves
Veggie Rolls - Pesto, cucumber slices, tomato slices
Sources:  Rose Reisman and her Art of Living web site. Photo by Lorella Vanetti.
Comments and Reviews